This is something you definitely NEED to read since Motley Crue's Tommy Lee just SLAMMED President Trump.
Since he was elected, Tommy Lee has established that he's no fan of President Trump. And now he is RIPPING Frump a new one on social media. Read on to see how Tommy Lee RIPS Trump on Twitter Over Gun Violence…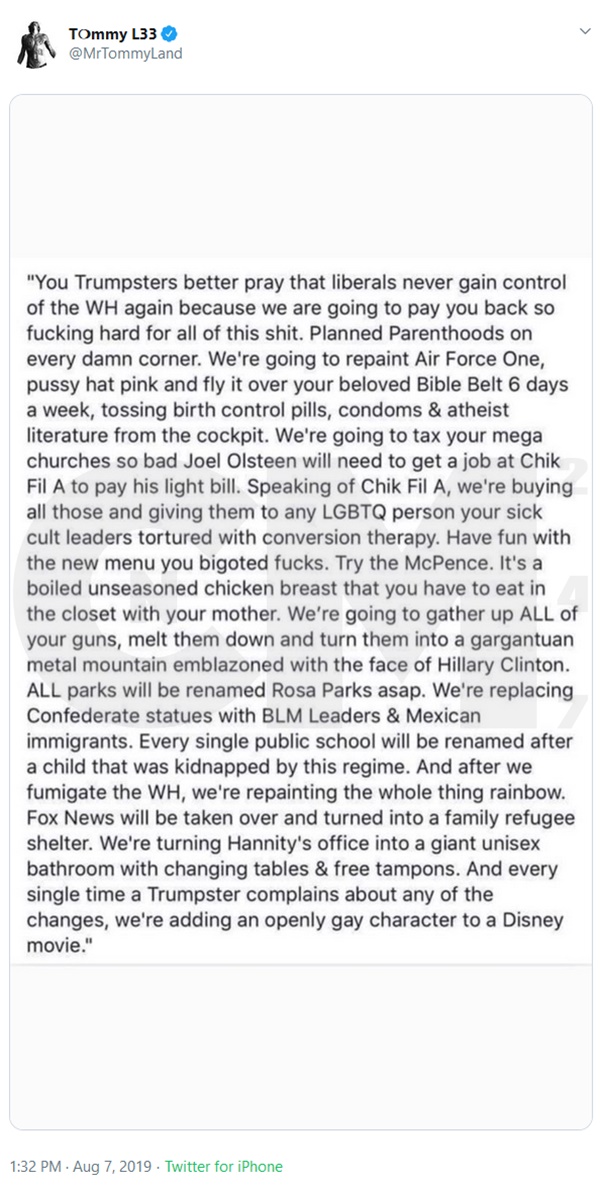 CelebNMusic247.com reports that Motley Crue's drummer Tommy Lee is leaving no rock unturned when it comes to Trump BLASTING the leader of the free world over gun control, the California wildfires and other environmental issues.
By now the United States should realize most Californian's ARE NOT FANS of Trump.
Now, Tommy Lee is pointing out how "scary delusional" Trump truly is, especially since he couldn't even get the city correct when speaking about the shootings in Dayton, Ohio. Trump is so clueless with his fake tears that he said he was sorry for the gun violence in Toledo? WTF, Trump, it was Dayton. #SMH
Take a look at this post from Tommy:
View this post on Instagram
After seeing how clueless Trump was about where the shootings took place he took to Instagram to weigh in on Frump.
Lee outdid even himself with a long Twitter rant that brought life to many a left-winger's revenge fantasies.
You Trumpsters better pray that liberals never gain control of the WH again because we are going to pay you back so f—ing hard for all of this sh-t.  Planned Parenthoods on every damn corner.
Tommy goes on to say:
We're going to repaint Air Force One pussy hat pink and fly if over your beloved Bible Belt 6 days a week, tossing birth control pills, condoms & atheist literature from the cockpit. We're going to tax your mega churches so bad Joel Osteen will need to get a job at Chik Fil A to pay his light bill. Speaking of Chik Fil A, we're buying cult leaders tortured with conversion therapy. Have fun with the new menu you bigoted f—s.
Read the full tweet above.