If you ask Timothy Savage, R. Kelly will spend next Father's Day behind bars, and Joycelyn Savage will spend it with he and his wife.
Well, that is what Joycelyn's father Timothy Savage is hoping forthe worst and he might get his wish if R. Kelly's lawyers fail to answer the lawsuit in one week. Read on…
CelebNMusic247.com reports that attorneys for R. Kelly have one week to respond to a lawsuit alleging sex abuse or face losing the case.
It appears that R. Kelly's attorneys FAILED to put the lawsuit on hold while the singer fights sex-related felony charges.
No, on Wednesday, Judge Moira Johnson sided with lawyers for the woman who filed the lawsuit that Kelly needs to file an answer to the litigation. Kellz attorney's only have until June 26 to respond to the lawsuit in Cook County.
The attorneys for the woman said it was improper for Kelly's attorneys to seek a delay before acknowledging the lawsuit.
Currently, R. Kelly's staring down some hard time … he's facing 10 counts of aggravated sexual abuse and was recently hit with 11 felonies related to sexual assault.  Meanwhile, Timothy Savage, the father of Joycelyn Savage is wishing him the worst possible outcome.
He happily posted the news that "R. Kelly's Lawyers Have One Week to Answer Lawsuit ":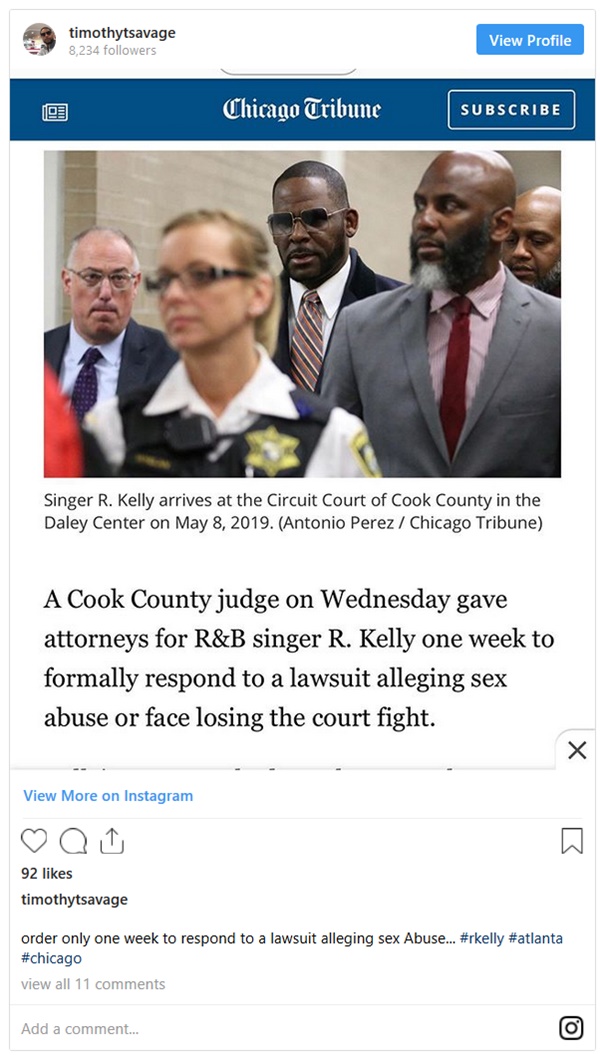 Meanwhile, Tim Savage told TMZ:
He's counting down the days until the embattled singer goes to jail and his daughter comes back home.

Joycelyn's dad says Father's Day left him with an empty feeling, because he only got to spend time with 2 of his 3 daughters. Mr. Savage is blaming it all on R. Kelly, and wishing the worst for him.

As you know … Joycelyn lives with R. Kelly, but her family believes she's been brainwashed. They've been fighting like hell to free her from his clutches
Following the news that R. Kelly has cleared his current child care debt (according to his lawyer) to Andrea Kelly.  If you recall, Jocelyn Savage's father Timothy called the police on January 3rd, saying Russell began sending them threats the morning that the docuseries aired, saying that if his support for Surviving R. Kelly continued:
Russell and R. Kelly "would be forced to provide information disproving Timothy." The information against Timothy, Russell described, would "ruin him, his reputation, business, and family because it would show him a liar."
This was Mr. Savage's response on social media:
As for the court hearing today, Kelly did not attend Wednesday's hearing in Chicago.