Rumors have been swirling that one of the panelists from The Real will be getting the boot and wait until you hear why, but we get it.
If you have noticed one of the co-hosts has NOT been on the show as much as her fellow co-hosts and it appears that receiving an NAACP Award and being nominated for 5 Emmy's isn't enough to make producers realize the show is a perfect blend. Instead, they are willing to take a chance and shake things up…
It's their first-ever Emmy for hosts of an entertainment talk show.
Congratulations to Jeannie Mai,Tamera Mowry-Housley, Loni Love and Adrienne Houghton. pic.twitter.com/ZSSqhmfkM9

— Fox5NY (@fox5ny) April 30, 2018
CelebNMusic247.com reports that we are hearing that MTO News is reporting they want to add "Conservative voice" (a.k.a. White person) to the panel of women.
Talk about RUINING The REAL. The reason why THe REAL works are that it is women of color making change and tackling ground without a white face in the mix, but now that the talk show is doing great, producer feel the need to whitewash the series.
The current co-hosts of The Real include African American's Loni Love and Tamera Mowry-Housley, along with Asian-American, Jeannie Mai, and Latina, Adrienne Bailon-Houghton.
According to a person close to the production said:
They're claiming that The REAL "show's ratings have been slipping and [producers] are going to try and shake things up."
So who's the cast member that allegedly on the chopping block, you ask? It's Tamera Mowry-Housely who had this to say about working with the ladies and being part of The REAL:
I love that my job is more than just about being on television. Every day I strive to encourage, inspire, and be a voice to so many men and women who can relate. Whenever I meet or hear someone and they share a story that I've helped positively in some kind of way, it always makes my day.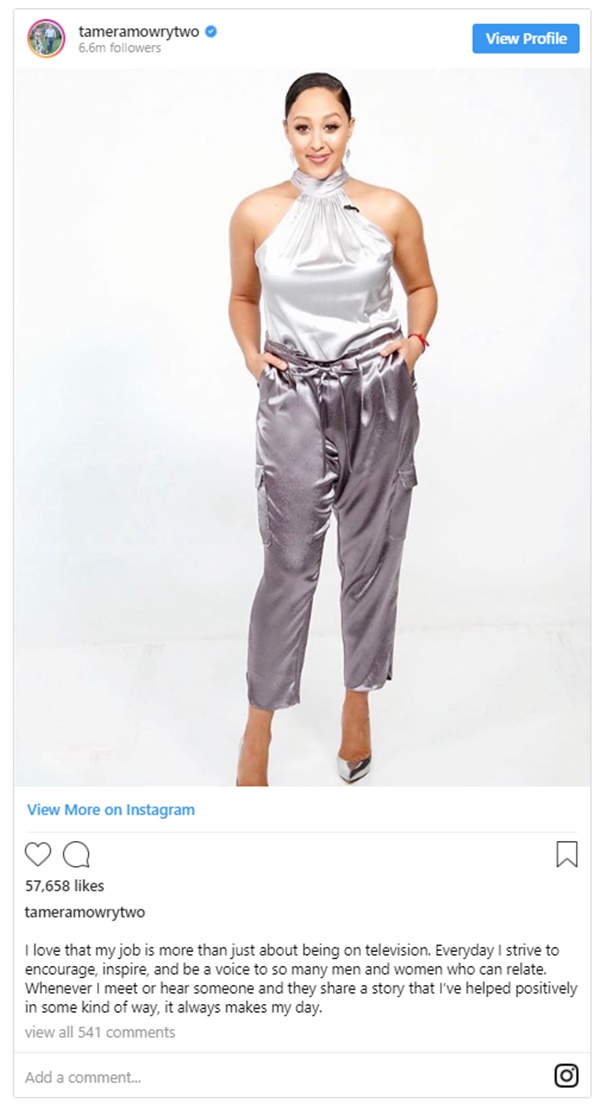 So why do they want to FIRE Tamera Mowry-Housely?
Tamera Mowry-Housely is viewed as the "nice girl" on the team and that "nice girl" factor is why she's allegedly the person the production team wants to replace.
Producers feel that all the other women on the show are "very opinionated" and that they would play well in the shows new "debate" format with the "Conservative voice".
The source also shared:
Everyone on the cast is a liberal democrat, so there's rarely any political or social debates. [Producers] want a friendly debate.
The site went out to say that no final decisions have been made with the cast, insiders believe Tamera will be the odd person out.