(CelebNMusic247) Thaddaeus Royale has talent with a purpose, and that purpose is to bring a fresh, personal element to the industry.
 When it comes to his music, Thaddaeus Royale is king, looking to share the riches of his craft with all.  Heralding from Ft. Walton Beach, Florida by way of Gautier, Mississippi, the 26 year old is here to shake up the music industry.
Since the age of 13, Thaddaeus has been honing his skills from a blended influence of hip-hop's iconic styles.  Growing up, it was while watching his older brother and cousin's rap that originally peaked his interest and, soon after, he decided he wanted to rhyme with the big boys.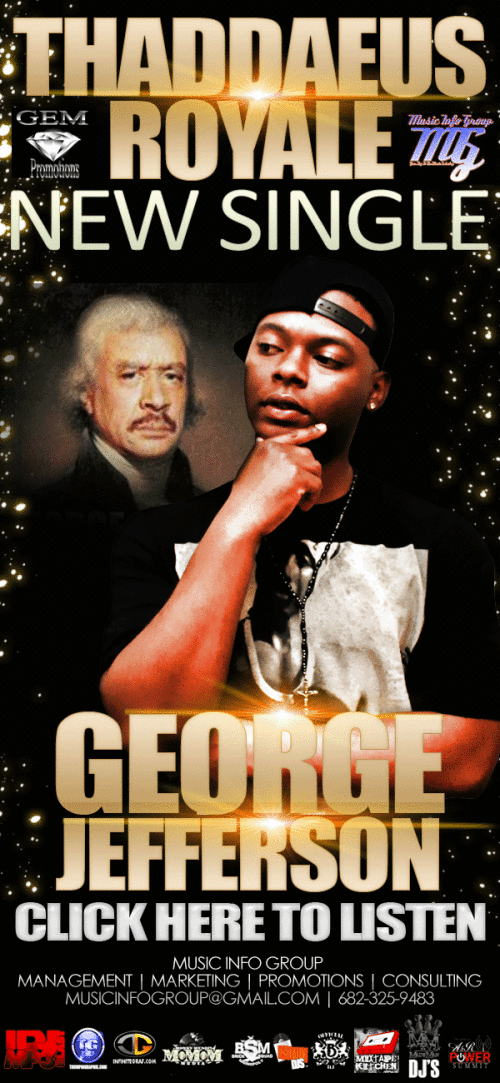 Connect w/Thaddaeus Royale
E.P.K:         http://mim.io/306982
FaceBook:   http://on.fb.me/ThadRoyaleLikePage
Download:    http://bit.ly/ThaddaeusRoyaleMusic
Youtube:      http://youtu.be/N4i0QRXLAwk
 Music Info Group: http://youtu.be/k3jHic4olnY
Bookings & Information | BIG Tone Email: Musicinfogroup@gmail.com | Phone: 1-682-325-9483 |
Twitter: @Musicinfogroup
http://raphead.com/Thaddaeus Royale Debut Single 'George Jefferson'…
Related articles