The devilishly electrifying Texas Hippie Coalition is everything you wanted when you think of good old Red Dirt Metal.
Texas Hippie Coalition is a suitable environment of backyard barbeques, barroom brawls, tent revivals, and big rock festivals. Read on…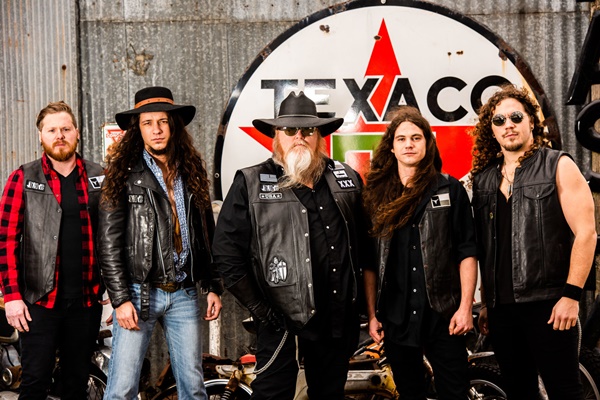 CelebNMusic247.com would like to wet your pallet with Texas Hippie Coalition and leave you that stank metal taste in your mouth.
Texas Hippie Coalition brings the grit with raw, relentless metal from the likes of bikers, outlaws, troubadours, and hellraisers.
Big Dad Ritch welcomes all comers to the THC party with gregarious charisma and Southern charm.
High in the Saddle is a record full of unashamed, full-throttle ass kicking. It's the band's second pairing with producer Bob Marlette (Black Stone Cherry, Rob Zombie) and sixth album overall, on the heels of the No. 2 Billboard Heatseekers slab, Dark Side of Black.
Big Dad Ritch brings you everything like Johnny Cash, but with a roughed heartfelt soulful rock. Guitarists Cord Pool and Nevada Romo, bassist Rado Romo, and drummer Devon Carothers build songs with traditional blue-collar and red-blooded American craftsmanship, skillfully transforming Big Dad Ritch's tales of recklessness and revelry into anthems for the Red Dirt Metal lifestyle.
Texas Hippie Coalition is that rock band you want to catch live. Check out their tour dates here…
And make sure you cop their new album High in The Saddle out May 31st, 2019
How Big Dad Ritch looks at the band:
Ritch who says "I'm just out to have fun, man. I never look at this as something I have to do. It's something I get to do" explains the band's evolution in Old West terms:
In the beginning, you're an outlaw looking for direction. You gotta get the best guys for the job behind you.
Tracklisting:
01. Moonshine
02. Dirty Finger
03. Bring It Baby
04. Ride Or Die
05. Tongue Like A Devil
06. Why Aren't You Listening
07. Stevie Nicks
08. BullsEye
09. Tell It From The Ground
10. Blue Lights On