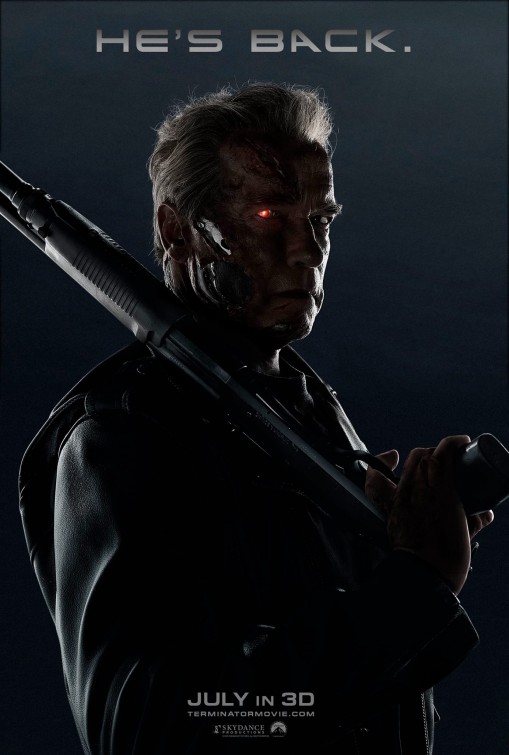 Terminator: Genisys Big Game Spot Trailer!!!
As you already know Hollywood continues to play it safe by releasing reboots, sequels and remakes so here is the Terminator: Genisys Big Game Spot Trailer!
On Sunday, Super Bowl fanatic's will be able to see Paramount and Skydance Productions full Terminator: Genisys Super Bowl trailer, but we have it early for you.
Terminator: Genisys is, unsurprisingly, geared towards the testosterone-fueled demographic, which we find interesting since early response from the film-inclined and Terminator faithful has been pretty negative. Anyhow, this is what CelebNMusic247.com has heard via Collider:
The film looks to be kind of a rehash reliant on nostalgia, as the story recreates scenes from the first two Terminator films before Kyle Reese (Jai Courtney) is sent back to the 1980s and finds himself in a very different timeline. That's interesting enough, but the focus here looks to be on explosions and big set pieces rather than interesting/terrifying sci-fi like the first two films.
We're still crossing our fingers in hopes the film is worth the money spent.
By the way, here's the synopsis for the new Terminator: Genisys:
Here's the official synopsis for Terminator: Genisys:
When John Connor (Jason Clarke), leader of the human resistance, sends Sgt. Kyle Reese (Jai Courtney) back to 1984 to protect Sarah Connor (Emilia Clarke) and safeguard the future, an unexpected turn of events creates a fractured timeline. Now, Sgt. Reese finds himself in a new and unfamiliar version of the past, where he is faced with unlikely allies, including the Guardian (Arnold Schwarzenegger), dangerous new enemies, and an unexpected new mission: To reset the future…
Watch the Terminator: Genisys Super Bowl trailer below:
The film also stars Arnold Schwarzenegger, Jason Clarke, Emilia Clarke, J.K. Simmons, Dayo Okeniyi, Matthew Smith, Courtney B. Vance, and Byung Hun-Lee.
Terminator: Genisys opens, of course in 3D on July 1st, 2015