Rap star Tekashi 6ix9ine could be a free man before the end of the year.
What everyone continues to overlook is that Tekashi 6ix9ine was more than likely a cop or an undercover FED from the very beginning even before that he meant 9 Trey Bloods. There are too many loopholes in his testimony that don't make sense. He has been protected from the jump, and now since he has gotten two 9 Trey Bloods behind bars for a long time, a judge is ready to sentence him. Read on for more about Tekashi 6ix9ine Sentence …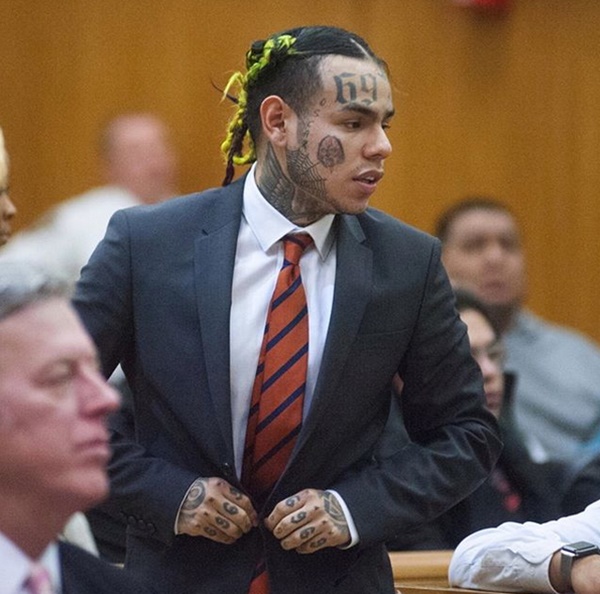 CelebNMusic247.com has the latest on Tekashi 6ix9ine since a judge has revealed that he will give the rapper his sentence on December 18, 2019, at 10:00 AM.
Since Tekashi 6ix9ine has SNITCH like an F'N RAT, today's Millenials are acting like its totally cool.
SNITCHING is NOT cool.
For the rest of Tekashi 6ix9ine life, he is a RAT!
Anyhow, the rapper's lawyers asked for expedited sentencing after 6ix9ine cooperated with the government in a RICO case against the Nine Trey Gangsta Bloods.
6ix9ine's testimony helped secure the conviction of Aljermiah "Nuke" Mack and Anthony "Harv" Ellison and nearly a dozen other members of the Nine Trey Gangsta Bloods. Mack was convicted of drug-dealing and Ellison was convicted of kidnapping Tekashi 6ix9ine.
Now, the turncoat rapper Tekashi 6ix9ine will learn how much his government cooperation paid off, according to PageSix.
The rainbow-haired "Gummo" singer faces a mandatory minimum sentence of 47 years behind bars — unless prosecutors are pleased with his performance on the stand during a recent gang trial.
Check out what Joe Budden had to say about Tekashi 6ix9ine and the many aspects that everyone continues to overlook: