Rapper Tay-K threw away all his blessing and hip hop career, his life and his freedom, for what?
If you recall, Tay-K, the prodigious Texas rapper born Taymor McIntyre, was sentenced to 55 years in prison on Tuesday after being convicted of murder in a trial that ended last Friday, July 19. Now his mugshot hs surfaced and you can see that the news that he will be behind bars until the age of 73. Read on to see Tay-K Mugshot because he looks so PISSED!!!
Celebnmusic247.com reports that Tay-K was all over the news last month after he was sentenced to 55 years in prison.
Tay-K received a sentence of 30 years on one count of aggravated robbery and 13-year sentences on two separate charges of aggravated robbery, but the sentences will run concurrently, according to Fort Worth Star-Telegram.
We're likely to never hear another new song from the rapper but we will probably be seeing his face from time to time. You know as he gets older and hopefully learns from this major mistake.
His mugshot is in the system and it managed to find its way on the internet for us all to view.
He looks very disgruntled in his new mugshot.
Tay-K appears to be in a very bad mood after learning that he'll spend the majority of his life behind bars. His eyebrows are furrowed and he has a frown on his face. His face has also understandably aged since the last time he was a free man.
In 2017, he posted this on Instagram:
 [I] keep the biggest pistol even tho I am a small dude!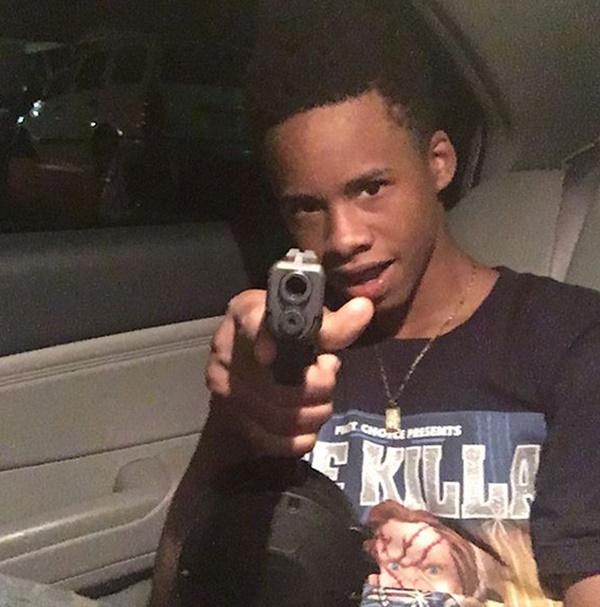 This is a photo a year after the crime he participated in, then pleaded guilty to. According to SPIN, in 2016, 21-year-old Ethan Walker was killed during a home invasion in which McIntyre was a participant. McIntyre pleaded guilty to the robbery charges but maintained his innocence on the murder count. He claimed that he did not know that his co-conspirators were going to shoot Walker or his roommate Ethan Beloate.
Too late now, he should have NEVER participated at all.
That sad thing is that there is no coming back from this. Just think a year ago, when he thought he was untouchable for his crimes, he was writing XXL why he wanted to be part of the 2018 Freshman Class.
Check it:
Did he really think he was gonna NOT be sentenced?