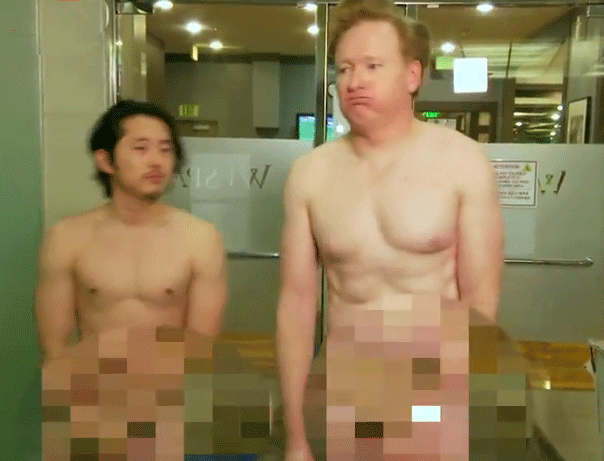 Steven Yeun and Conan O'Brien Get Naked?!?
Oh Lawdy our eyes have been scared for life after witnessing The Walking Dead star Steven Yeun and Conan O'Brien Get Naked Together in Korean Spa.
Just for some laughs, The Walking Dead Steven Yeun and Conan O'Brien strip off their robes and go completely nude while visiting a Korean spa together on the Conan O'Brien Show on TBS.
[rpi]
The clip aired during an episode of Conan on Wednesday (February 11) and we have a feeling it will be going viral this week. So many funny moments happen!

Watch the clip below to see Steven and Conan getting painful body scrubs together, jumping in cold water naked, having awkward moments with old men in the sauna, and rolling around in clay.
Take a look:
Let's be real, did any of us really want to see Conan naked?
Icky!
Make sure to watch new episodes of Steven's show The Walking Dead every Sunday night on AMC!