Earlier this year Steve Harvey's daughter 23 year old Lori made international news dating music mogul, Sean "Diddy" Combs.
Most people were like "Yuck" when the got word about Lori Harvey and Diddy smashing, but now everyone can take a breath and sigh in releaf since she has dumped her older man. Read on for more on Steve Harvey's daughter Lori DUMPS Diddy…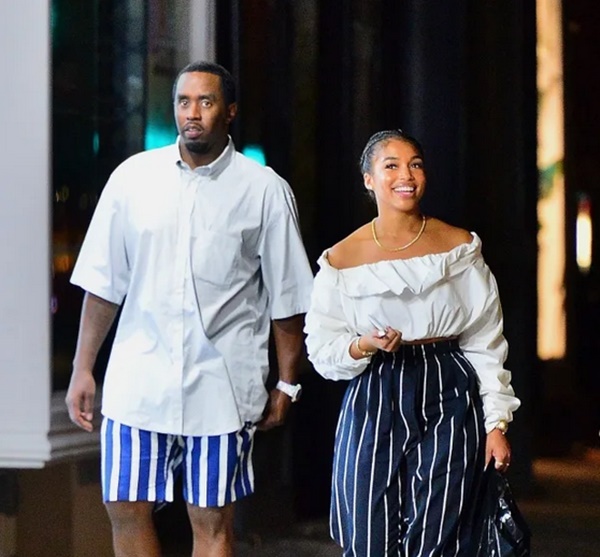 CelebNMusic247.com got word on Friday that Lori Harvey and music mogul, Sean "Diddy" Combs are NO MORE!
Yes, it's official Lori Harvey and Diddy have split!
According to sources Lori who broke up with her older 49-year-old bae.
Here is what we've learnd:
Sources close to Lori, the beautiful step-daughter to Steve decided to break things off with Diddy.
As one insider explained:
Diddy and Lori, 23, were cool for a while, but the age difference was so big, they never really had a chance [at making it work].
But another one of Lori's friends tells a different story claiming:
Diddy was too "controlling." She told MTO News, 'Diddy is very controlling – he wants to know where she is all the time. It was like she was dating her father."
That is no surpirse ladies – Any man who dates a woman 20+ years younger is doing it for one reason…"control!"
Bottom line, Lori finally had enough – and gave the mega-millionaire his walking papers a week ago.
Diddy was not expecting walking paper since he's a millionaire. But Lori's friend added:
He still wants her back, but she's done.
We can only imagine, Steve Harvey is somewhere planning a "My daughter Finally Dumped Diddy Party."
Damn do you blame him, what man wants to see his daughter dating a man around his age. He probably wanted to kick the living sh-t out of him, but didn't because of industry politics.
Recently Nick Cannon addressed his opinion on what he believes of older and younger partners.
Nick felt that Diddy and Lori's romance was quite disturbing in an interview with VLAD:
She's what? Twenty-three? [Vlad interrupts to reply that she's 22] And he's 49. Twenty-two, and 49. Aw, man!
Cannon added:
I don't have a problem with that, but I would heartbroken if that was my own daughter…To each his own. But I would feel like I failed as a father if I'm sitting across the table with a dude the same age as me that's dating my daughter. I would feel like I failed.
He concluded saying:
I can't speak on what that man got goin'.
We just find it funny since Nick was only 25-years-old when he first started dating Mariah Carey, 36.
11 years difference is NOT as bad as Diddy and Lori's 27-years difference. a quarter century+ is just too much. There is too big of a gap in the way one thinks.
Not to mention the fact that she is close to his sons ages, so that makes it worse.