Extreme messiness has just got Snoop Dogg caught up in a cheating scandal!
Instagram Model Celina Powell, the THOT who claimed Offset cheated on Cardi B and was knocked up by the Migos rapper has moved on.
Now, Celina Powell is claiming that she and Snoop Dogg smashed. Read on…
Celina Powell's name is under the definition of messiness after claiming she and Snoop Dogg smashed:
Basically, Rapper Snoop Dogg is in the hot seat since she is accusing him of cheating on his wife of 21 years.
Celina Powell's THIRST to get her 15-minutes of fame and a hopeful child support check from a rapper continues.
She apparently posted some supposed messages between she a Snoop Dogg, as well as some video footage.
This is the same chick who admitted that she lied about Offset after causing drama with Cardi B.
On top of that, Waka Flocka filed a restraining order against her.
In one video, you can see Snoop whispering to someone to "give him a minute," but there's no indication that he was telling that to Powell.
In another clip, a male voice that sounds like Snoop's asks a woman to come over and perform a sexual act. There's also a photo of "The Joker's Wild" host with his shirt off and another video of him talking.
The female voice supposedly tells Snoop:
Sorry, like, I'm in the middle of getting ready right now.
The male voice replies:
Alight, do your thing. I'm not ready no way, so I'll hit [you] when I'm ready.
Powell also said the 46-year-old asked her to send him some photos and videos of herself.
She claims he wrote:
Alright, baby. I was super busy.
Powell wrote. Back:
It's okay, love. I understand. When [will I see you]. I want you.
She goes on to alleged Snoop asked for photos:
Send pics and video, baby. [I] want you.
Celina Powell writes:
I only have that one I sent you but I'll take some now for you.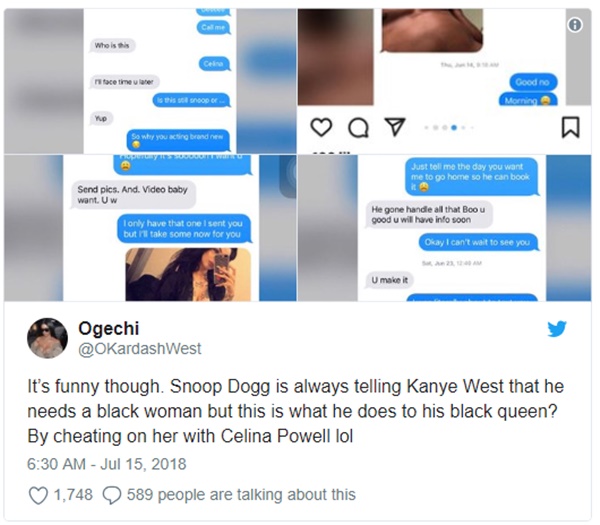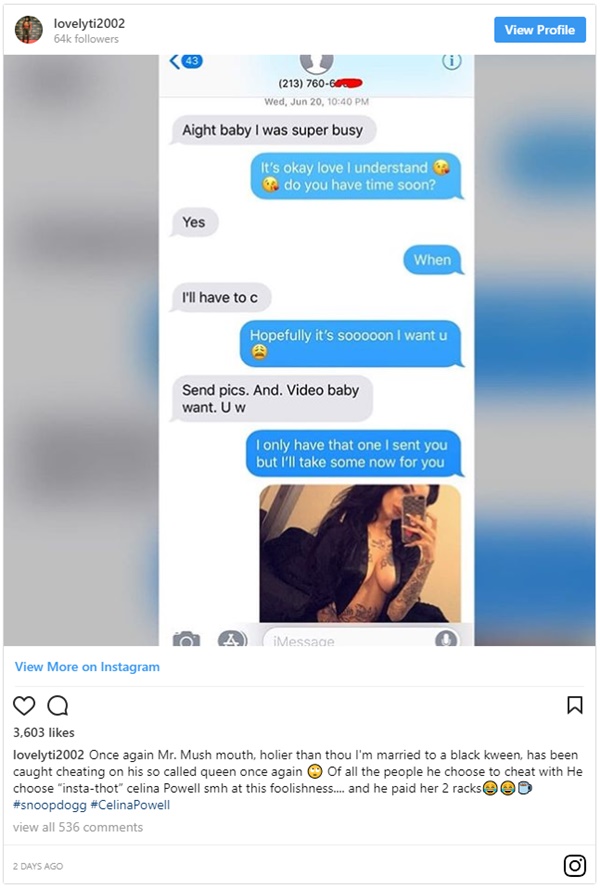 Personally, we're NOT buying any of this. This girl NEEDS help! It sounds like another set of lies at the expense of Snoop Dogg's name. #GirlGetALife