Def Jam's Russell Simmons resigns after multiple sex assault claims have surfaced about his insensitive misconduct.
The beloved Russell Simmons joins the list of sexual assault offenders in the entertainment industry. Read on to get the latest tea…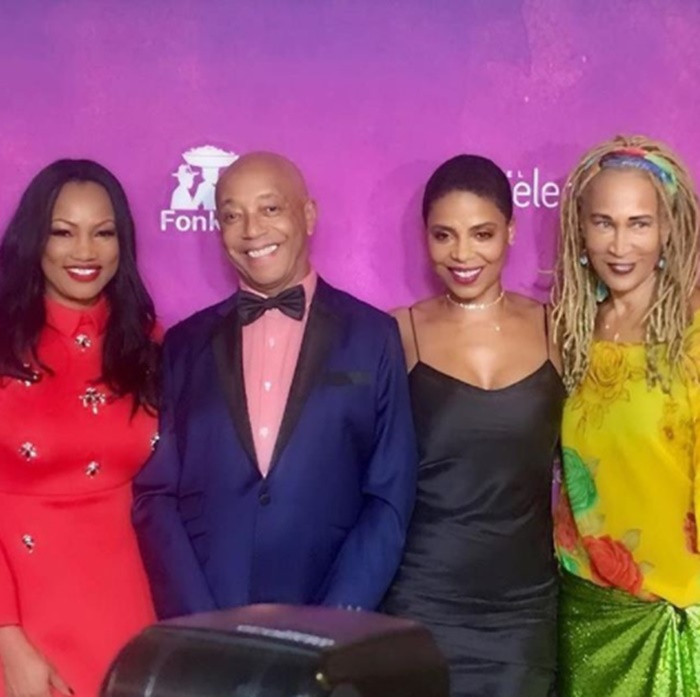 CelebNMusic247.com has the latest on Russell Simmons who steps down after sex assault claims.
We didn't hear about Russell Simmons sexual assault claims until news surfaced that he sexually assaulted Jenny Lumet, the daughter of director Sidney Lumet and is the granddaughter of Lena Horne.
Yes, Simmons tried to sexually assault Hollywood royalty, but he allegedly couldn't stand up to perform. We guess limp parts don't make for good sex, so what we've heard is he went half-sies on Lument.
Terry Crews EXPOSES Simmons Over Groping Incident
Word broke after Jenny Lumet aired Simmons dirty laundry in a column in the Hollywood Reporter on Thursday, writing that Simmons sexually assaulted her in 1991.
Simmons, 60, the co-founder of hip-hop label Def Jam Records and also a film producer, apologized for his behavior in a statement on his Instagram site.
Simmons said in his Instagram statement:
"While her memory of that evening is very different from mine, it is now clear to me that her feelings of fear and intimidation are real. While I have never been violent, I have been thoughtless and insensitive in some of my relationships over many decades and I sincerely apologise."
Here is the FULL statement by Russell: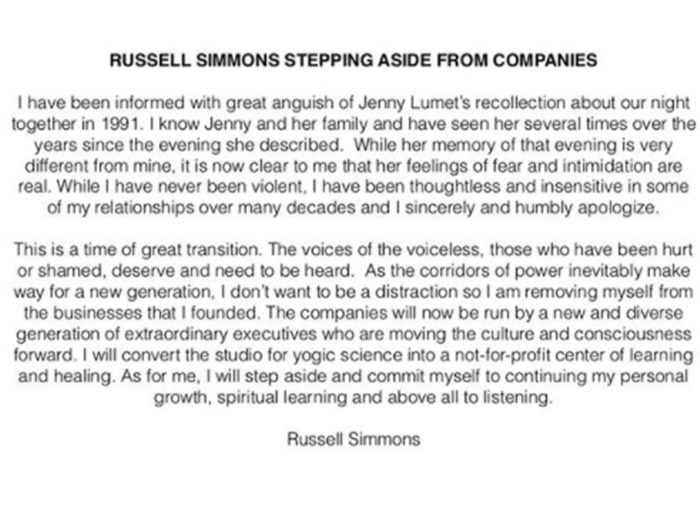 This is disturbing to us, because Russell promotes Karma, enlightenment and hot to better ourselves as individuals, but then is put on blast for being slim of the earth?
Russell Says Comedy Is Still Segregated
What a hypocrite!
It seems the men who oversee peoples fate in Hollywood continue to use sex as a way of control. If you want in, how bad do you want fame? Would you sleep with a troll to be a movie star? Apparently, the frogs of Hollywood are winning, not one of them are a princess. But this goes to show you ugly looks good when the bank account is overflowing in cash.
HBO releases a statement removing Simmons from all projects:
HBO said on Thursday it had removed Simmons' name and involvement in its upcoming six-part series All Def Comedy, due to begin airing on Friday and showcasing emerging and established stand-up comedians.
The premium cable network said in a statement.
"HBO will be airing All Def Comedy as planned. However, Russell Simmons will not appear in the new series and we will be removing his name from the show moving forward. The series is a platform for promising and upcoming comedians and we do not want to deprive them of an opportunity to showcase their talents to a national audience. We have no other projects with Russell Simmons."
Russell On Michael B. Jordan Playing Him
Russell's role in Hip Hop Culture Tarnished:
Simmons has played a huge part in hip hop culture. He has been regarded as one of the most influential entrepreneurs in the hip-hop world. Russell founded the fashion lines Phat Farm and Tantris, and co-produced films and TV shows including The Nutty Professor and Def Comedy Jam.
Now his name will be removed from everything!
Another career taken down and name removed from the history of entertainment. The ugly side of Hollywood, the used whores makeup has worn off and everyone sees she's been abused over and over again.