Last week we told you that Cardi B announced that she and Offset had officially split.
Then a random side chick grabbed her 15-minutes of fame by crying on video claiming she never wanted to cause Cardi and Offset to break up.
Now, Offset is admitting that he misses his wifey Cardi B. Read on to see what social media has been saying about Offset's admission…
CelebNMusic247.com reports that Offset took to social media yesterday to let the world know that he misses Cardi B after she announced they no longer live together.
Days, after Offset blamed everyone else for why he and Cardi B are on their way to divorce court— via his"Y'all, won" tweet–he's baaaaaack.
On Sunday (Dec. 9), the Migos rapper took to social media to express just how much the breakup has him in his feelings.
He tweeted:
F-ck Yall. I miss Cardi.
Wow, that's it? Some basic I miss you BS on social media?
As they say, social media is a vice to make you look like you care, but in reality, you do you. Hopefully, Offset did more than just a post on Twitter.
If he really misses Cardi B, then show her NOT the fans. #SMH
Anyways, Black Twitter didn't let his basic tweet stop them from weighing in on Offset to reminded him why his soon-to-be-dismantled marriage is nothing more than his own triflin' fault.
Check the backlash to his Tweet: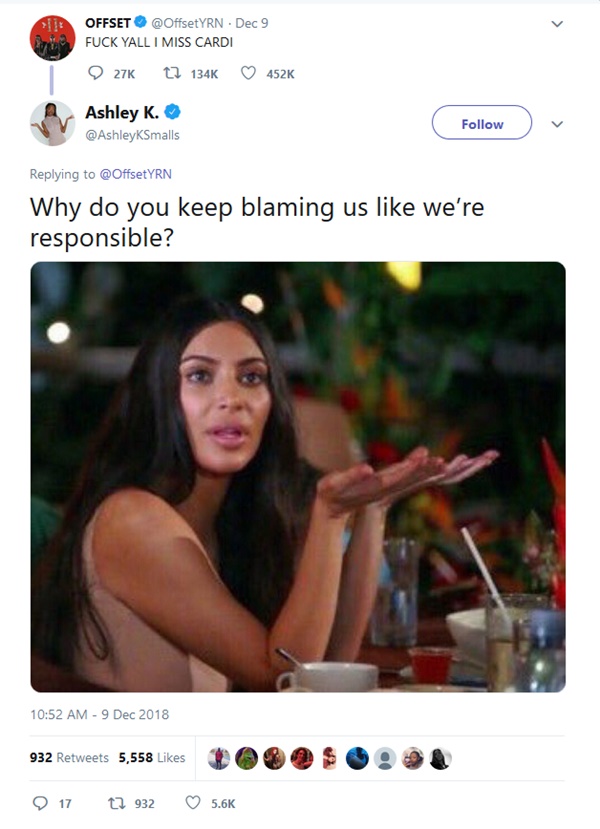 — Alexis James ????? (@AlexisJ54835817) December 10, 2018
— Petey Plastic (@PeteyPlastic) December 10, 2018
— Under His Eye Heaux (@kelleent) December 9, 2018
— malaika? (@thatssomalaika) December 10, 2018
— ???????? (@AyeshaAbrahams2) December 10, 2018