Today Nipsey Hussle's Memorial service brought out hip hop to celebrate the life of Nip and to continue his work on stopping gun violence.
Stevie Wonder honored Nipsey Hussle's life and fulfilled the late rapper's wish. Read on to watch Lauren London, Snoop Dogg, YG, Minister Louis Farrakhan speak on Nipsey Hussle…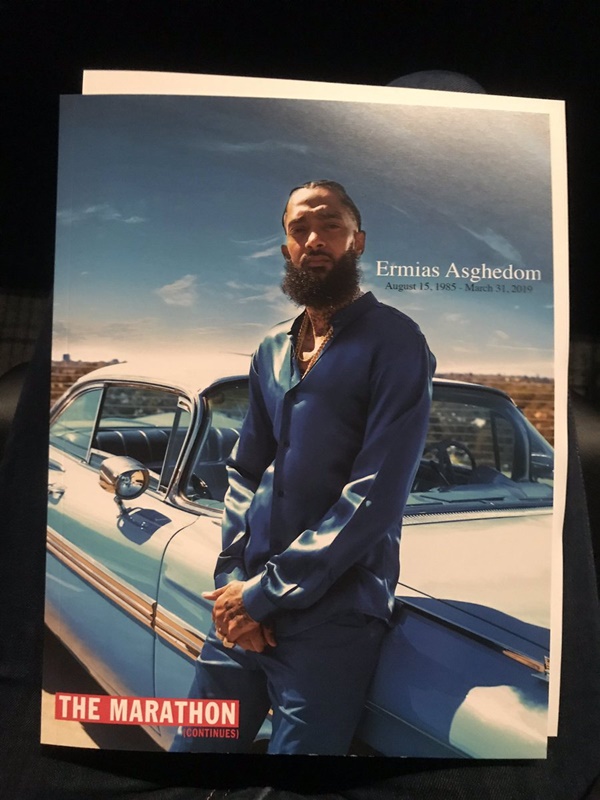 CelebNMusic247.com reports Hussle's family and girlfriend Lauren London paid tribute to the slain rapper at the Staples Center, Wonder, 68, took the stage.
Stevie Wonder had this to say about the late rapper Nipsey Hussle who was trying to make a positive change in his community:
I had the pleasure through someone I was very close to … who arranged a meeting for myself to have a meeting with him for us to talk," the singer said of meeting the rapper. "It is a heartbreak to again lose a member of our family. It is a heartbreak because it's so unnecessary.
Wonder continued by saying:
We, to be a civilized nation, civilized world, we still are living in a time where ego, anger, jealousy is controlling our lives. It is so painful to know that we don't have enough people taking a position that says: 'Listen, we must have stronger gun laws. It's unacceptable.
Steve Wonder brought tears to everyone when he sang "Rocket Love," then Eric Clapton's "Tears in Heaven," which he ended by saying: "Love you, Nipsey. God bless you."
Nipsey's girlfriend Lauren London paid tribute to the slain rapper stating:
"What's in you they can't take away, and he's in all of us" ~ Lauren London??? #CelebrationOfNipseyHussle pic.twitter.com/tDFNSolKoR

— skyerenaee (@skyerenaee1) April 11, 2019
Lauren London, actress and longtime girlfriend of Nipsey Hussle, read from a text she wrote to Nipsey while he was sleeping: "I feel real joy in my heart when I'm around you. I feel safe around you." https://t.co/HHHK7S0YvS #NipseyHussleMemorial pic.twitter.com/FgdUcg1RdF

— NBC Los Angeles (@NBCLA) April 11, 2019
Close friend, Snoop Dogg also paid respect to his friend Nipsey who was taken from the world too soon by LA rapper Shitty Cuz (Eric Holder):
Say that again SNOOP! ??#CelebrationOfNipseyHussle #SnoopDogg pic.twitter.com/gX7xFRLDVl

— Daphne (@celebriD) April 11, 2019
YG spoke on his brother from another color said that he and Nipsey always spoke on "family goals" and "advice on how to be better."
"That's my brother from the other color" -YG ???#CelebrationOfNipseyHussle #NipseyHussleMemorial pic.twitter.com/xpuRzTb6E0

— RapVineyard ? (@RapVineyard) April 11, 2019
Minister Louis Farrakhan said:
maybe he mean 'Whoopsie Hussle'?@LouisFarrakhan refered to Nipsey as 'Nipsey Russell' at least twice during #NipseyHusslememorial pic.twitter.com/7bS5sz7K6u

— Ian Michael Giatti??? (@IMGiatti) April 11, 2019
Eric Holder, 29, has since been charged with one count of murder, two counts of attempted murder and one count of possession of a firearm by a felon, according to a release from the Los Angeles County's District Attorney's Office.
On Thursday, he entered a plea of not guilty in court. Holder could face a maximum sentence of life in state prison if convicted.