On Friday Nicki Minaj Issued a "Warning" (using her first music video) to let ALL the new-gen female rappers "Playtime is Over."
It was a direct shot at Cardi B, who has continued to bite off of Nicki's style all the way around. Cardi B has become the Nicki Minaj for the past year, and now Nicki is ready to take back the throne. She took to social media calling out all new-gen female rappers saying "Warning…Playtime is Over" it was meant mainly for Cardi.
Well, Nicki Minaj sends shout outs Lady Leshurr, Kash Doll, Asian Da Brat, Cuban Doll, Saweetie, Megan Thee Stallion who have all responded with nothing but love to the Queen of the Barbz. Read on…
CelebNMusic247.com reports that Lady Leshurr, Kash Doll, Asian Da Brat, Cuban Doll, Saweetie, and Megan Thee Stallion who responded to Nicki Minaj with love and respect.
Nicki Minaj made it clear, "12 years ago I dropped my 1st mixtape. Wrote every single word on every single song. I was so proud of that."
She went on to say "Eventually, the Barbz were all wearing pink hair, Chinese bangs, & Barbie chains. Colorful wigs came all the way back in style. Everyone became Barbies & Dolls." She went on to say "I always shouted out my influences in my interviews."
Minaj also seemingly threw shade at Cardi B, who has been accused of payola and not writing her own songs.
Nicki made a direct attack at Cardi B stating:
I never had a crusade by radio stations, influencers & blogs to make my song number I when Anaconda was #2 on the Hot 100. I never had a group of men in the studio writing my songs for me so it took a while between albums.
Nicki Minaj is celebrating her contributions to the rap game on Friday and then deleted it: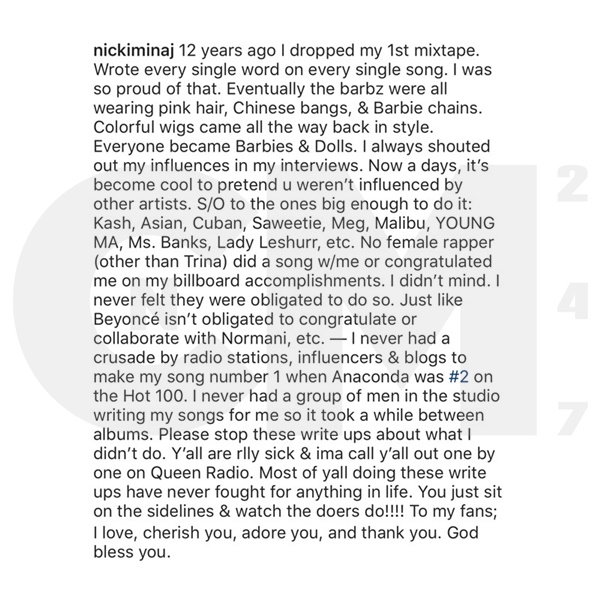 Lady Leshurr, Kash Doll, Asian Da Brat, Cuban Doll, Saweetie, Megan Thee Stallion and even Maliibu Miitch have all responded to Nicki's IMPACT on Hip Hop:
Lady Leshurr responded to Nicki writing:
A lot Of The Girls In Music Haven't Been In The Game For Too Long So Would Never Be Able To Understand How Hard The Graft Was To Make It Easier For Female Rappers Today. I'm 20 Years In & Wheewwww Chile The Struggles Been REAL. ? Always A Breath Of Fresh Air When One Of The Hugest & Hard Working Females In This Industry That Doesn't Owe Nobody Nothing Shows You Love. Give This Woman Alllll The Accolades ?????
She adds:
Couldn't have said it better!! I said what I said on stage with you because I felt like I'd never be able to get the opportunity to give you the love and respect you really deserve. You made it easier for every female after you even male rappers and it's sad that majority don't wanna admit it but ????? the real know wat a gwarn!!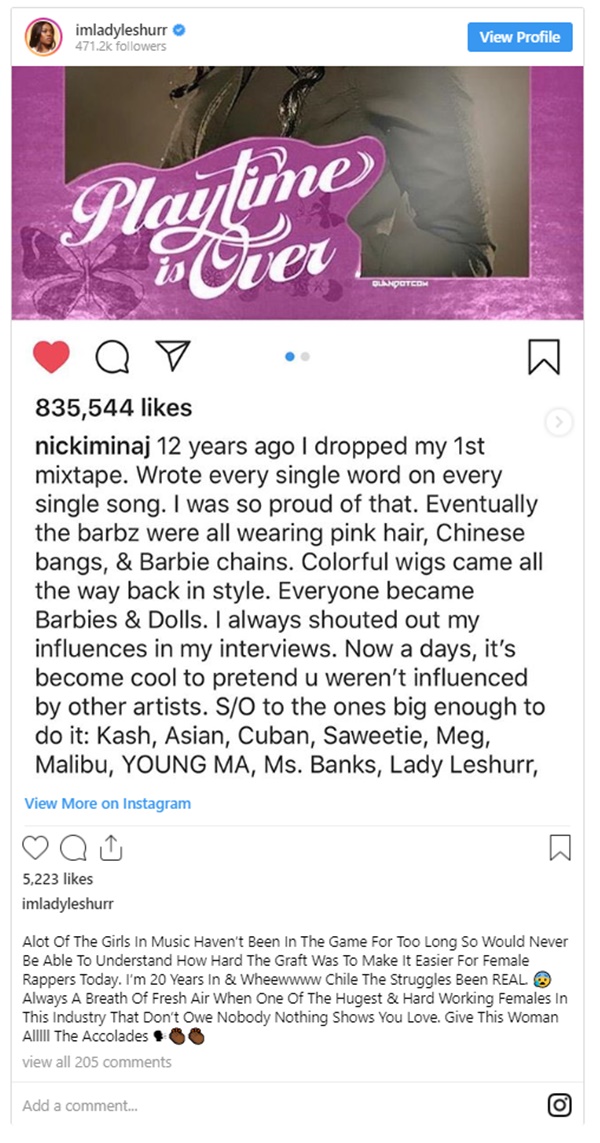 Megan Thee Stallion replied:
Love you??
Trina weighed in and gave props to Nicki saying:
Changed the game Queen?? #dangalang #5starchick #mychickbad #baps
Asian Da Brat wrote to Nicki:
We love you fasho & it's not everybody against Nicki it's US AGAINST EVERYBODY!!!!!!!!! you changed the game Nicki & I want you to know nobody can do what you did you set the Bar to the highest level fo real… A TRUE ICON ??
Saweetie posted this in the comment section:
Nicki Lewinsky
Cuban Doll also replied:
I love you, Nicki!!! We definitely had them bands & Barbie necklace on deck tho ?????? & this why you will always be the most influential rapper of all time ????
Ms. Banks felt:
This inspired all of us ???????
One artist Nicki did not mention was Maliibu Miitch but she responded to the Queen Barb saying:
Still rockin Chinese bangs till thss day kuzz ov u!!! loveee u Nick.