Still mourning the death of John Singleton, his mother Shelia Ward and ex Tosha Riea have spoken out claiming that John's death was his new girlfriend's fault.
Continue on to see what the famed director's mother Shelia Ward and ex Tosha Riea are saying about John Singleton's death…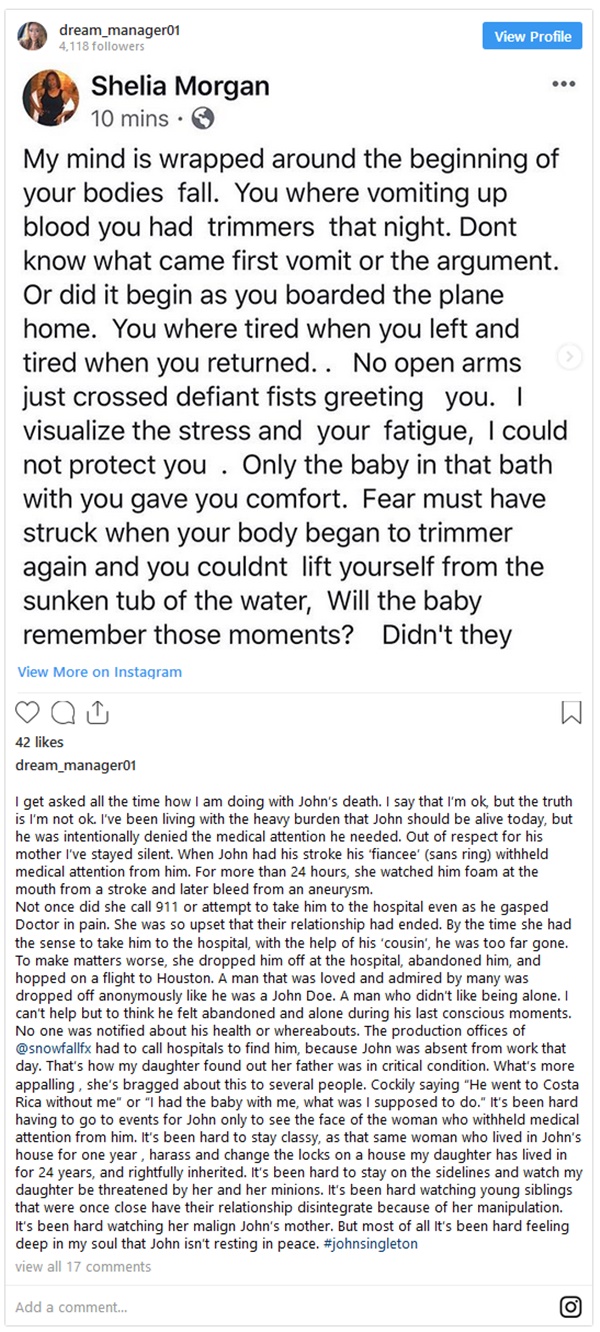 CelebNMusic247.com reports that ex Tosha Riea, the mother of two of Singleton's children took to Instagram sharing screenshots of a Facebook post from the famed director's mother Shelia Ward.
John's mother Shelia Ward did not explicitly name anyone in her message, but Tosha Riea didn't hold back from accusing Rayvon Jones of the death of John Singleton, her children's father.
Riea claims Rayvon Jones deliberately withheld information regarding Singleton's health and how he needed medical attention and eventually abandoning him.
John Singleton's mother of his children Tosha Riea took to Instagram speaking on his death saying:
I get asked all the time how I am doing with John's death. I say that I'm ok, but the truth is I'm not ok. I've been living with the heavy burden that John should be alive today, but he was intentionally denied the medical attention he needed.
She adds that John's mother should have been aware of his condition, adding:
Out of respect for his mother I've stayed silent. When John had his stroke his 'fiancee' (sans ring) withheld medical attention from him. For more than 24 hours, she watched him foam at the mouth from a stroke and later bleed from an aneurysm.
Then, she points out how, Rayvon Jones was in no hurry to help save Singleton's life.
She continues:
Not once did she call 911 or attempt to take him to the hospital even as he gasped Doctor in pain. She was so upset that their relationship had ended. By the time she had the sense to take him to the hospital, with the help of his 'cousin', he was too far gone. To make matters worse, she dropped him off at the hospital, abandoned him, and hopped on a flight to Houston. A man that was loved and admired by many was dropped off anonymously like he was a John Doe. A man who didn't like being alone. I can't help but to think he felt abandoned and alone during his last conscious moments.
Tosha points out:
No one was notified about his health or whereabouts. The production offices of @snowfallfx had to call hospitals to find him because John was absent from work that day. That's how my daughter found out her father was in critical condition. What's more appalling, she's bragged about this to several people. Cockily saying "He went to Costa Rica without me" or "I had the baby with me, what was I supposed to do." It's been hard having to go to events for John only to see the face of the woman who withheld medical attention from him. It's been hard to stay classy, as that same woman who lived in John's house for one year, harass and change the locks on a house my daughter has lived in for 24 years and rightfully inherited. It's been hard to stay on the sidelines and watch my daughter be threatened by her and her minions. It's been hard watching young siblings that were once close have their relationship disintegrate because of her manipulation. It's been hard watching her malign John's mother. But most of all It's been hard feeling deep in my soul that John isn't resting in peace. #johnsingleton
Bottom line, Rayvon Jones sounds like a gold digger playing the long plan with Singleton, according to Tosha Riea.
We doubt John thought when he said "Goodbye Costa Rica" that it was his goodbye to life: