Yesterday NeNe Leakes woke up and had an epiphany so she shared it with her fans on social media which has many thinking that she may have officially signed off and QUIT the Real Housewives of Atlanta. 
Nooooooooo, NeNe This can't be!!!!
There have already been so many rumors that Bravo producers were phasing NeNe and Porsha Williams out by replacing their peach positions on the upcoming seventh season of The Real Housewives of Atlanta.  From FIRED to PHASING OUT the rumors have been swirling and Now with this subliminal tweet signs may be pointing to NeNe moving on and NOT returning to RHOA.
It was only two weeks ago that NeNe threatened that she was quitting if they're keeping Kenya Moore and now she's hinting to it again.
NeNe Tweet's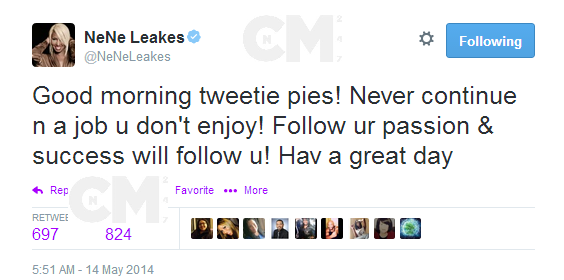 Let us NOT forget that NeNe is a master at denial when it comes to swift statements such as thus, because she has tweeted things like this in the past and a few days later argued why she is still the queen of the show.
Plus she was just spotted moments ago with Andy Cohen at the UpFronts: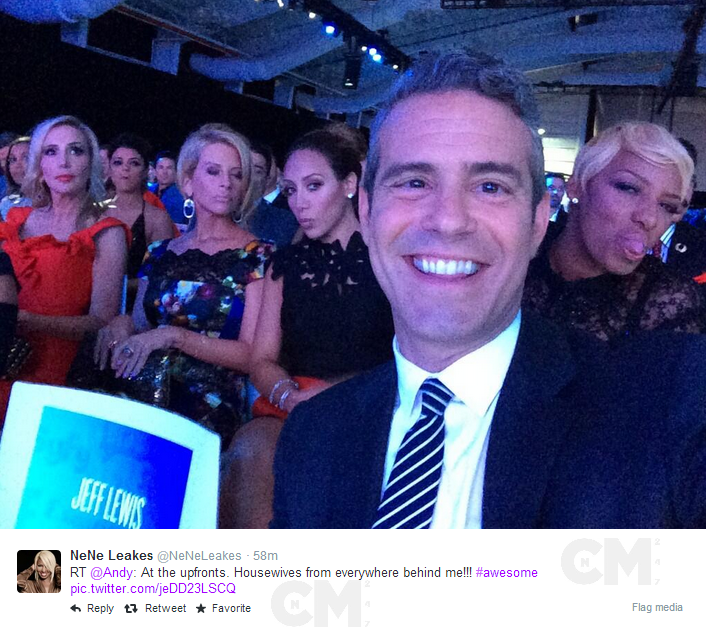 Did Nene just quit the Real Housewives of Atlanta??? We know it was said that they lost their peach, but did she take the cast reduction as an insult since she was asking for more money?
NeNe has been saying she has quit more than once this past season, so all we can do is wait until Bravo reveals its plans for season seven.
Thoughts?
Related articles