Modern Family star Sarah Hyland received some heavy criticism that has forced the actress to leave Twitter after fans started to question why she was asking for money to pay for her 14-year-old cousin's unexpected death.
Read on to see why fans started criticizing the Modern Family star backlash asking for money…
CelebNMusic247.com reports that actress Sarah Hyland is taking a breather from social media after asking fans to donate to help pay for funeral costs following her 14-year-old cousin's unexpected death.
The big question everyone was asking is why was Modern Family star Sarah Hyland would ask fans to pay for her cousins funeral when she makes $75 thousand per episode and has a net worth of $9 million.
Why didn't Sarah Hyland just cover the $40 thousand dollars donation?
Over the weekend her cousin, Trevor Canaday, was tragically hit and killed by a drunk driver late Saturday night in Omaha, Nebraska.
Hyland wrote on Twitter Sunday asking for fans support to pay for funeral and medical costs:
Yesterday my 14-year-old cousin was killed by a drunk driver. My Uncle is in the hospital awaiting more surgeries.
Following the Tweet, Hyland included a link to a GoFundMe page set up by Trevor's mom, Becky, and sisters Tessa and Zoee to raise money for the funeral and medical costs.
The problem is her request didn't sit well with some on social media who criticized the mourning celebrity for not footing the bill herself and asking others to help out instead.
One fan quickly FIRED BACK at Sarah saying:
I'm sad for them but can't u pay for the funeral? $15,000. To u is like nothing.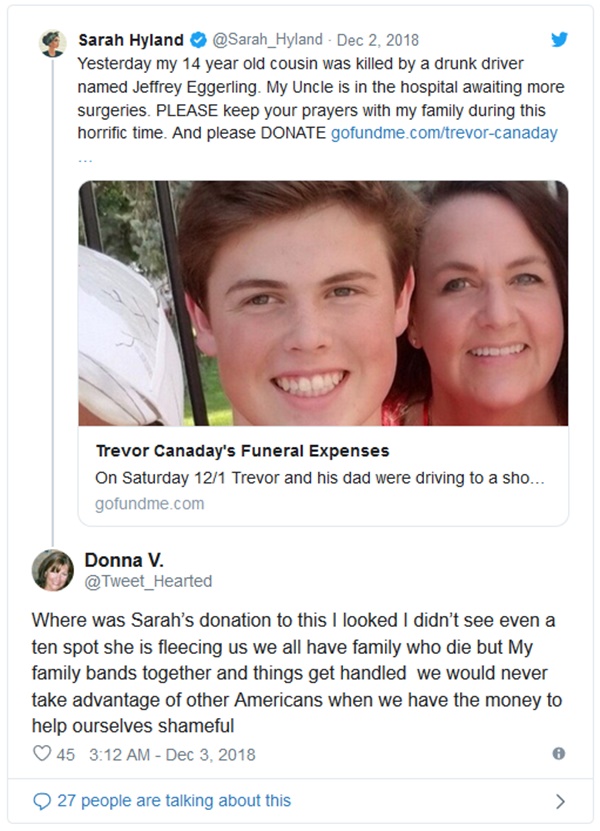 Sarah FIRED BACK: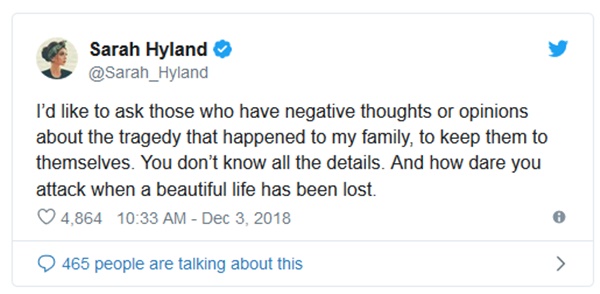 Sarah Hyland decided to use her Modern Family star power to get fans to flip the bill.
We get it, $40k is nothing when you are worth $9 million. It comes off like she is helping in her mind without spending a drop of her money.
Sarah this sounds a bit selfish on your part and cheap. We understand you are sad, but she should have paid for the funeral. But like many people with money say, they get tired of the family asking for a hand out all the time.
What many don't understand is that it takes a lot of hard work, struggle and sacrifice to make those coins and to just dish it out every time someone needs a helping hand is too much. If you had a net worth of $9 million would you pay for the funeral?
Let's be real, it would come down to how close were you and if you actually knew each other and were cool. If you were just blood related but never spoke, be honest you might do the same as Sarah by just using your star power to get the donations, and put a sad post on social media to act as you care.