Miley Cyrus took to Twitter on Oct. 21 to respond to the criticism she received after talking about good guys and claiming people 'don't have to be gay' in an Instagram Live she did with boyfriend Cody Simpson.
Cyrus tried to clean up her words on Twitter saying that she was speaking about s-cky guys and claiming people 'you don't choose your sexuality' on Twitter. Read on for more on the Miley Cyrus LGBTQ Backlash…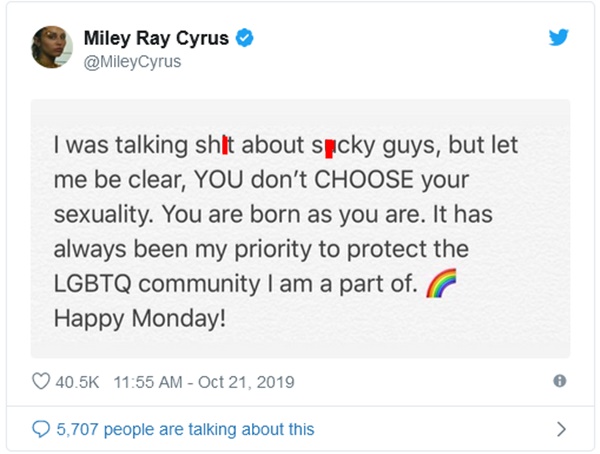 CelebNMusic247.com reports that Miley Cyrus took to Instagram this weekend to do a live video with Cody Simpson, looking back at their history together.
Miley Cyrus, 26, said per a video captured by Daily Mail:
I stanned her, and then she stanned me while I didn't stan her and now we stan each other. She stanned me when I didn't know that she stanned me.
She added:
Guys, I was being a little too, like…hard-core feminist vibes and, just like, I don't know, not allowing anyone in, but now I am.  There are good men out there, guys. Don't give up. You don't have to be gay. There are good people with dicks out there. You just gotta find them. You gotta find a dick that's not a dick, you know what I mean?
Cyrus explains:
I always thought I had to be gay because I just thought, like, all guys were evil, but it's not true. There are good people out there that just happen to have dicks. I've only ever met one…and he's on this Live.
When it comes to her ex Liam Hemsworth that  she will "admit to a lot of things but I refuse to admit that my marriage ended because of cheating."
Miley adds:
Liam and I have been together for a decade. I've said it before and it remains true, I love Liam and always will.
Her conversation received major backlash from the LGBTQ community due to some words she said on an Instagram Live she took part in on Oct. 20.
Cody Simpson, 22, was chatting about "good guys" in the stream when she told her viewers "you don't have to be gay" because there are worthy men out there like Cody. It didn't take long for many of her followers, including those who are part of the LGBTQ community or supporters of it, to take offense to her advice.
Miley Cyrus fired back on Twitter (above):
I was talking sh*t about sucky guys, but let me be clear, YOU don't CHOOSE your sexuality…You are born as you are. It has always been my priority to protect the LGBTQ community I am a part of. Happy Monday!