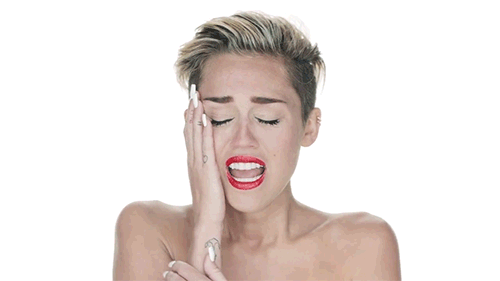 Poor Miley Cyrus and her "Wrecking Ball" won't be blowing down and walls since doctors  have gone out of their way to tell her to stop singing!
Although, some people are jumping up and down in joy, Miley Cyrus NEEDS to rest her vocal cords if she wants to continue as a singer. The doctors told the Bangerz singer to stop singing just FOR NOW.
Because Miley seriuosly needs vocal rest!
Wow, we thought, Miley couldn't be stopped!
Guess she was wrong, her music will continue to live strong, her videos will play on continuous loop and her fashion will still be talked about, while she takes to a note pad and paper or shall we say iPad to speak.
Here's the drop:
She went online to tell her fans that doctors have forced her to take a break to save her voice.

Honestly, we don't blame the doctors for this prescription of R&R, because Miley has been going HARD for months now. Plus it doesn't sound like Miley's too bummed about it either:

"Happy to get some rest. Time to go be sicky"
Rest up, Miley!
Related articles