Miley Cyrus is doing the most. Apparently, the "Mother's Daughter" singer is thinking a lot about "unconditional love"
In fact, Miley posted a very curious message to her Instagram Stories on Sunday
After Miley Cyrus mom Tish Cyrus called her a "bratty millennial" the "Slide Away" singer has gone full throttle posting on her Instagram and her Instagram Stories.
Tish thought her behavior was "disgusting" but apparently Miley isn't hearing anyone but her self and proving Millenials don't have respect for their parents. Read on for more about the Miley Cyrus Cryptic Message…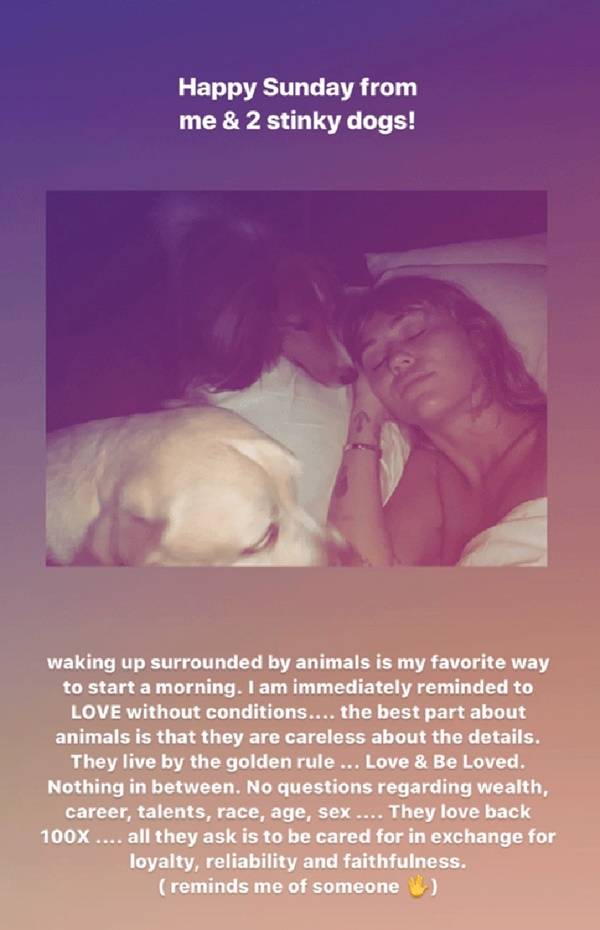 CelebNMusic247.com has the latest from Miley Cyrus who took to her Instagram Stories on Sunday with a cryptic message.
In fact, some Miley Cyrus fans believe that she was speaking about Liam Hemsworth or Kaitlynn Carter.
Miley wrote (below):
Happy Sunday from me & 2 stinky dogs! Waking up surrounded by animals is my favorite way to start a morning. I am immediately reminded to LOVE without conditions…. the best part about animals is that they are careless about the details. They live by the golden rule … Love & Be Loved. Nothing in between. No questions regarding wealth, career, talents, race, age, sex …. They love back 100X …. all they ask for is to be cared for in exchange for loyalty, reliability, and faithfulness. (reminds me of someone).
What do you think…cryptic or not?
Who is good ole Miley talking about?
Well, it could Liam and Kaitlynn who are at the front of the line. Or it may be towards her mom Tish for saying she was a "bratty millennial" because she wouldn't put her cellphone down for a second and enjoy life happening around her.
Miley stays with her face buried in the phone according to Tish Cyrus. And since the split from Liam Hemsworth, she has been doing the most on social media.
Take a look:
View this post on Instagram
Thoughts?