Migos rapper Offset is so happy that he is shouting out his attorney.
The Atlanta rapper was arrested on Friday and then was SLAPPED with multiple CHARGES, two of them being felonies and two being misdemeanors.
Read on to see why Migos rapper Offset is happier than peanut butter and chocolate smashed together…
CelebNMusic247.com has the official word from Migos rapper Offset who wants to assure everyone that he is doing fine because he is back home with his wife Cardi B and their baby.
Migos rapper Offset took to social media early on Sunday after his attorney got him bailed out of jail.
He stated:
I WOULD LIKE TO THANK THIS MAN LAWYER/FRIEND HE HAS TAUGHT ME A LOT ABOUT GETTING MORE INVOLVED IN COMMUNITY HE HELPS ME FINANCIALLY OUTSIDE THE COURTROOM HE IS THE BEST LAWYER I KNOW I LOVE HIM TO DEATH @drewfindling
It appears if you are in trouble and you're in entertainment the man to call is Drew Findling the #billiondollar attorney with a celebrity clientele second to none.
On Saturday, Quavo took to Twitter confirming the news that Offset was home: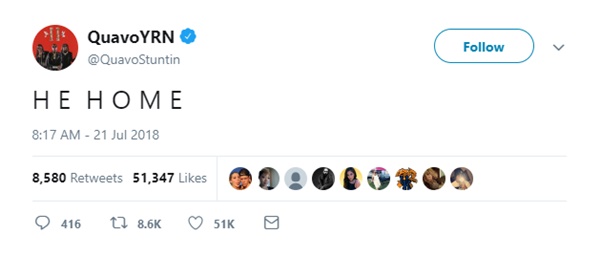 What are your thoughts on Offset getting bailed out of jail?
Are you happy for him, or do you feel that hip-hop stars get hand slaps and released?
We know Bobby Shmurda didn't get out. It appears that it's all about your attorney when it comes down to it.