Joe Jackson is in the final stages of life, he is preparing himself for his eternal rest. Reports reveal that The Jackson family father is getting weaker by the day.
UPDATE: Michael's Father and Patriarch of the Jackson 5, Dies at 89!
Joe Jackson took to social media to say goodbye while his family continues to assemble around him for what they believe will be the final goodbye. Read on to learn more on Joe Jackson loses battle against cancer…
Over the weekend, Jackson's Twitter account shared a photo of Joe looking at the sunset, seemingly suggesting he's coming to terms with his time running out.
CelebNMusic247.com is sad to announce that Joe Jackson, the father of Michael, Janet and their eight siblings and the architect of the Jackson 5, died following a battle with cancer.
We previously reported that Joe Jackson posted on Twitter on Sunday:
I have seen more sunsets than I have left to see. The sun rises when the time comes and whether you like it or not the sun sets when the time comes.
Family sources told TMZ that Jackson died early Wednesday morning in Los Angeles reportedly following a battle with cancer. The outlet previously reported June 22 that Joe Jackson had been battling cancer "for some time" but it was "at the end stages" and could not "be treated."
Taj Jackson, who is Joe's grandson, said in part Wednesday morning on social media:
Joe was loved by our ENTIRE family and our hearts are in pain.
Randy Jackson also posted this on Twitter: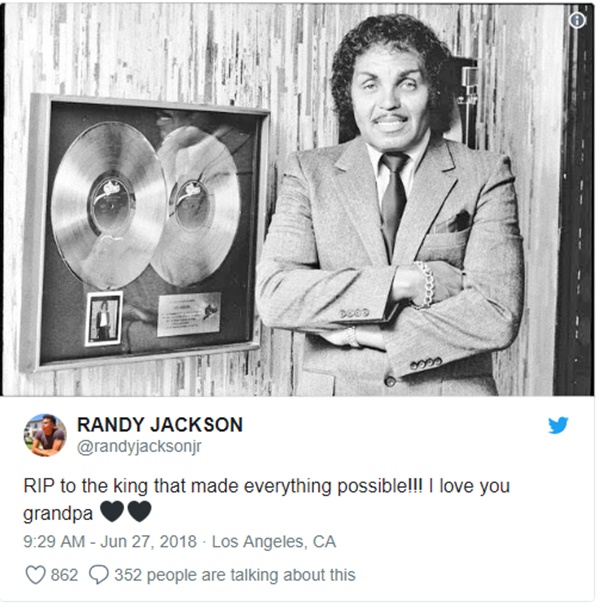 He knew he only had a few days left.
#RIPJoe