A little over a year ago Melyssa Ford had a horrific car accident on the 134 freeway in the Pasadena area, and now she is speaking about the near-fatal
day.
Melyssa Ford spoke with her friends Charlamagne The God and Angela Ye to help people understand her road to recover and her state of mind moments before he Range Rover flipped 5 times on the 134. Continue on…
CelebNMusic247.com would first like to say that we are very happy Melyssa Ford is alive to talk about the car accident. We love to hear about a person who is able to survive something so extremely horrific and live to talk about it.
We understand what Melyssa Ford is talking about when she told Charlamagne that moments before the accident she just knew something horrible was about to happen and she had no control to stop it.
Melyssa tells The Breakfast Club that first, she believed that the diesel trunk which was next to her on the 134 Fwy clipped he back tire. She remembers the most to this day is "metal on pavement…the worst sound ever…and then the violence of impact" right before "flipping" she had a moment of calm.
Melyssa Ford goes into detail about the accident:
She said that her jeep ended up upside down, the roof completely ripped off and some good samaritans stopped to help. Three guys picked up the jeep and then took her out of the vehicle.
Ford reveals:
My head was cracked open like an egg. I had a massive skull fracture. My brain was bleeding (which was determined after MRI). On man took off his shirt had held my head together. Another covered my face with a hat. It was a beautiful day. It reminded me of 911. It was a beautiful day, cloudless and sunny.
She goes on to say:
When I came to, I was lying on my bck looking up at the sun in the sky thinking to myself 'what a beautiful day.'
Melyssa was looking up and then was wondering:
Why is my back so hot, and who are these guys?
It was the EMTs taking care of her at the scene of the accident. She was still lying on the side of the road as they were prepping her to be taking to the hospital.
She explains that is when she realized what happened. Ford looked over at her jeep and saw what had happened, but she could only see out of one eye since there was blood all over her face and blood pooling in her eye. She heard them saying she was losing consciousness. She ended up at hunting Memorial which has valet parking.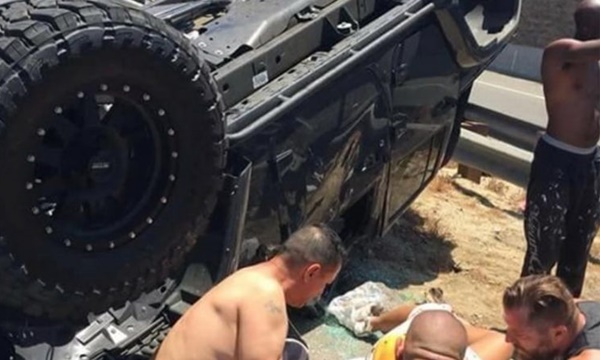 Melyssa said that she had two phones at the time, and neither one was cracked. She was shocked at that.
Ford said that someone got into her phone and started calling everyone from Stephen A Smith to Damon Wayans.
Melyssa said:
Not the first people she would call…maybe my mom first?
She said that she was overwhelmed at the response but felt like she was witnessing her own funeral. It was insane.
Then she learned one of the good samaritans who helped her leaked the photos he took to prove to his boss why he was late for work. He only took the photos because he was afraid his boss would not believe him.
Melyssa went on to say the outcry of people who inserted themselves into her near-fatal accident. A lot of them didn't know her but did it for their own selfish needs to be relevant. And NOT one of them called her or reached out to her in her time of need.
Her road to recovery was extremely tough since she had to relearn how to walk and talk after she was released from the hospital.
Since the accident, a part of her has died and now she is left asking:
Who am I?  What is my purpose? Who am I if my brain is not working?
She is still redefining herself and will continue to put back the pieces…