Over the weekend while everyone was out enjoying Memorial Day weekend Meek Mill went to see DJ Mustard Saturday at the Marquee Nightclub at the hotel but they were met by security as they pulled up and were ordered to leave.
The hotel's security said if they got out of the car they'd be arrested for trespassing.
What did Meek Mill do about the bad situation? Well, he handled himself like a professional, asked some questions and got the white security guard to admit how racist they truly are when black artists try to enter their hotel. Meek made sure to blow them out of the water because he has a video. Continue on to watch…
The incident took place on Saturday when Meek Mill people called the hotel to let them know that he will be arriving to attend the outdoor pool party. Instead, he was stopped and blocked by security at his car.
Meek Mill instantly pointed out how the Cosmopolitan hotel/casino was extremely racist
Cosmopolitan hotel/casino going to extreme racist levels to keep too many black entertainers and black people …. they said they gone lock me up.. I'm like for what I've been once to a party with Jay Z ….. Some of these casinos have a bunch of Tactics to keep the level of blacks down …. but love to take our money!!!! This happens to a lot of black entertainers not just me either!! I felt crazy being put out by these white men for no reason!
Since the incident, Meek Mill and his lawyer are doubling down, that they believe the Cosmo and other Vegas hotels are discriminating against black hip-hop artists and illegally circulating a banned list.
Tacopina says the properties are treating the rappers like dogs and acting like it's the days of Tupac and Biggie all over again.
He adds that the video of Meek being denied and threatened is all the proof needed to show there's something seriously messed up going on in Sin City. Meek Mill will file a lawsuit this week against the Cosmopolitan hotel in Vegas for ordering him to leave the grounds and threatening him with arrest, and his lawyer vows to destroy the hotel for its actions.
Joe Tacopina says:
He will ask for "heavy monetary damages" for "lying and humiliating Meek. I'm going to take this place down because of what they did."
Tacopina claims there's a list of black rappers who are persona non grata at a group of Vegas hotels.
Of course, Cosmo denies it excludes anyone because of race, but Tacopina tells us he's already identified 2 other rappers who have been discriminated upon at the Cosmopolitan and other hotels in Vegas.
Yo Gotti has weighed in, saying:
It's a disgrace that these establishments continue to judge us by the color of our skin and our professions instead of recognizing our artistry and dedication to our communities.  I stand with Meek Mill and all my peers in the hip-hop community that have been disrespected by places like the Cosmopolitan.
50 Cent also weighed in on the Cosmo hotel stating:
Damn Boy, they wouldn't let meek in ?HA Ha Ha I know he was tight. LOL, THEY FOUL for that, I won't stay at the cosmo till this is resolved.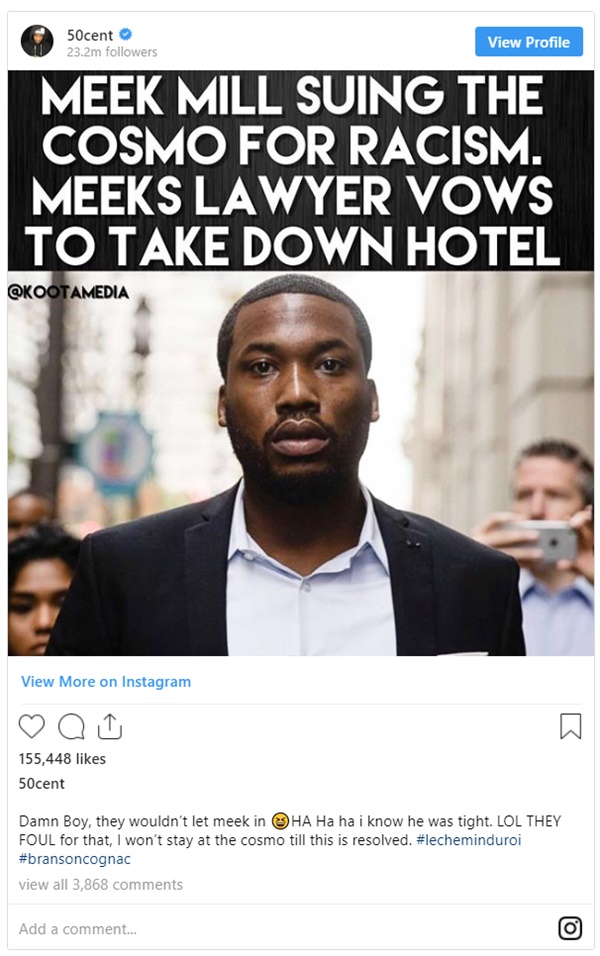 ATL rapper T.I. showed his support saying:
Never cared to stay there…but me neither
Thoughts?