We have to admit the photo of rapper Meek Mill and music mogul Diddy is actually very funny because we doubt they planned this.
It proves they both have the same taste in close, but if you ask Twitter, they're suggesting each other. Oh, yeah, Meek Mill + Diddy is being accused of being "gay". Read on…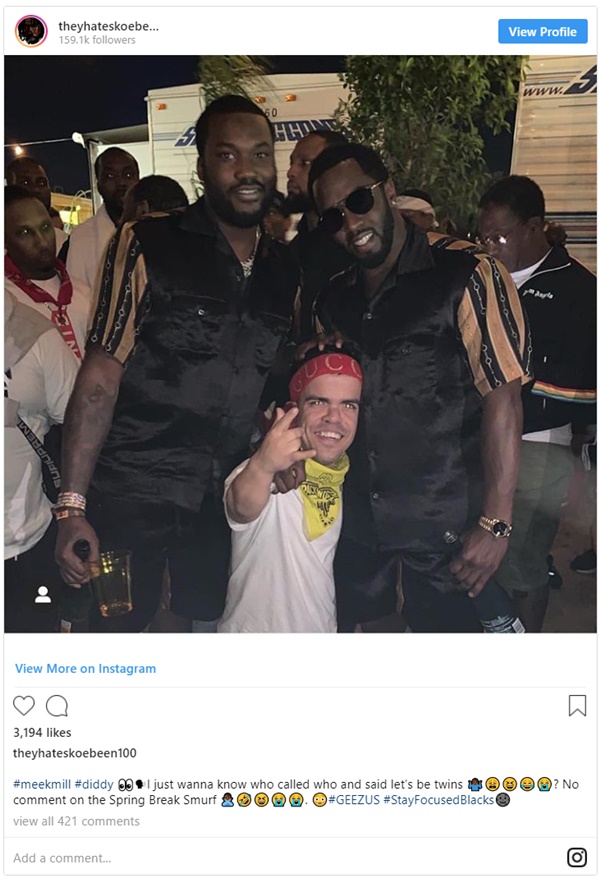 CelebNMusic247.com has the latest tea coming from Twitter after a photo is surfaced of the two men out at an event, wearing matching outfits – and smiling for the camera.
What makes it suspect is that the image appeared on Diddy's Instagram, but the mogul quickly deleted it – as if he posted the image by accident.
Instantly people started chirping on Twitter about why did he pull the pic. Luckily the photo was screen capped and now the world can see the infamous pic thanks to others on social media saved the image and re-uploaded it.
The photo Meek Mill + Diddy Twinning and looking cozy together caused an immediate Twitter firestorm. The conclusion, the men are secretly a "gay" couple.
Take a look at the photo and you decide. We think it all has to do with how Meek Mill is leaning in with an adoring smile like he is overjoyed to be out with his man Diddy.
Diddy, on the other hand, is like "yup this is me and my guy" with his look. No matter what we believe this is just one of those pics where they took the photo because they were like "damn, no really, you bought that shirt too?"
Here are just a few comments being said on Twitter via MTO:
Philly's got some 'splaining to do lol.. idk no street n*gga that like to wear the same outfit as another man and pose for a pic in it.

Meek's moving funny style since he got out.

Diddy's the type to slip roofies in that Ciroc. One minute the dude is on the dance floor ready to fu*k some bi*ches, then he wakes up and hears 'take dat, take dat' wit Diddy next to him
Regardless, it's funny.
As for Meek, he deleted his Instagram account over the holiday weekend stating on his Twitter:
No social media …. all real life!