Master P Backtracks Saying Monica "Clout Chasing"!
This week it was announced that Monica has joined forces with Kim Kardashian West to get Master P's brother and rapper C-Murder out of prison. Continue on to see why Master P is saying Monica is "Clout Chasing…"
Over the weekend, CelebNMusic247.com got word that Master P aired out his frustrations publicly suggesting the Kim Kardashian and Monica are "clout chasers," and using his brother, C-Murder.
Last week, Kim Kardashian and Monica announced that they were on a mission to get C-Murder out of prison.
Well, word traveled to his brother Percy Miller, best known as Master P who is NOT a fan of Kim Kardashian and Monica announcement.
In a 7-minute video, Master P, real name is Percy Miller, addressed the fact that his brother has put his friends over his family and feels that their efforts are going unnoticed.
Miller stated that C-Murder, born Corey Miller, was quick to send love to Kardashian and his ex-girlfriend Monica. Corey Miller didn't mention his family, which has Master P feeling slighted by his brother calling him "ungrateful."
Master P's post got Monica's attention. She was quickly in her feelings.
She responded by asking P to leave her name out of their family business.
Monica said in the comment section of Master P's video:
I have been respectful towards you and you have refused to do the same! You can NOT speak on me because you do not know me!
She added:
I have only conversed with Silkk! This matter is between you MEN, you're brothers! Leave me out of this because my efforts have BEEN the same! I just didn't see the need to post it! Check the visiting lists from The Parish to Angola to Hunts or better yet ask his children! You responded before you READ! He's never not (been) able to hit me, my mother or brother, and get what he needs! FOCUS ON HIS FREEDOM!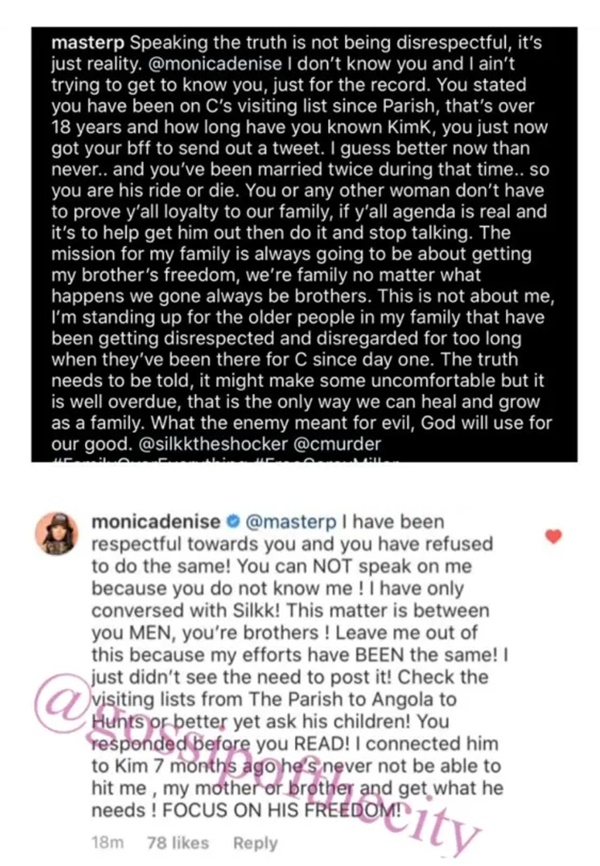 Monica later added that she connected C-Murder with Kim Kardashian seven months ago in order for him to get some help with his case.
Master P admitted that he was wrong to put Monica in family business.
Percy issued an apology to Monica. In a video shared on Instagram on Friday, the rapper apologized to Monica, saying he has "no beef" with her. (below):