Tamar Braxton has reignited her feud with The Real co-hosts after taking a swipe at them during a recent airing of The Wendy Williams Show.
We previously reported that Loni Love was quick to address Tamar Braxton's interview with Wendy Williams which aired the hour before The Real.  Well, the shhh is about to hit the fan, because new tea has been spilled and Loni Love is being EXPOSED by Tamar Braxton…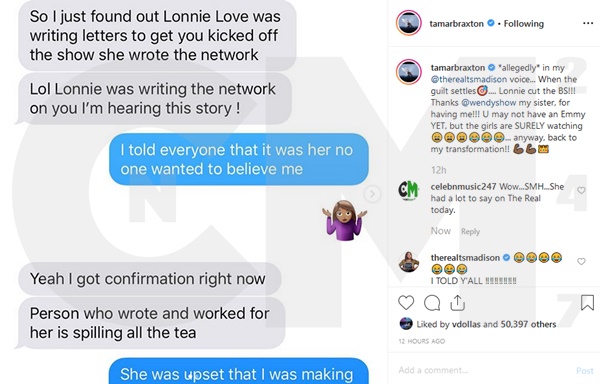 CelebNMusic247.com was originally glad to see that the ladies of The Real were finally ready to squash the ongoing feud between Tamar Braxton and her former co-hosts.
Now, we've learned that Loni Love, the one who was most verbal on Wednesday about extending an olive branch to Tamar Braxton, was the one who allegedly got her booted from the show she created.
Loni was very verbal stating that she was NOT the one, and she was very hurt that Tamar would think that.
Well, that was until some text messages have surface EXPOSING Love as the culprit:
There are some text messages circling around social media pointing the finger directly at Loni Love as the one who went behind Tamar to get her FIRED.
Loni gave a compelling argument about how she was happy that Tamar apologized over the summer and that she is cool. She even told Tamar while speaking during the opening segment that Braxton is welcome to come on the show anytime.
Love did, in fact, make sure to sarcastically thank Wendy Williams for their "cute" show, but she reminded that their "cute show is an Emmy winner."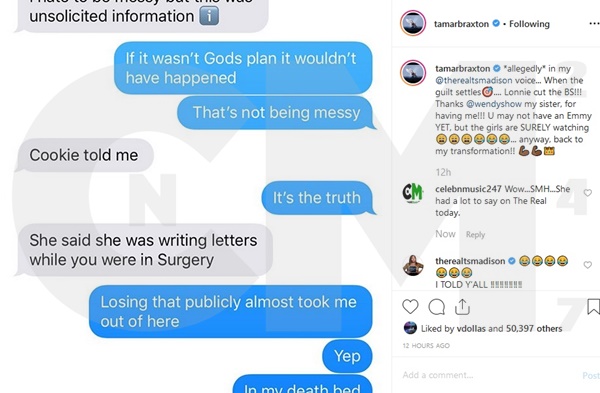 The caddiness was in full effect while she was trying to kindly welcome Tamar back as a guest host.
Tamar's feeling about being on The Real is as follows:
Here's the thing. I don't want to be anybody's marketing tool this season, no shade. I just wish everybody well, and I feel like sometimes God has to move you out of situations before you become more toxic to yourself
TS Madison laid into Loni Love for what she did on The Real on Wednesday: