Another day another rapper hit with a lawsuit! Once again Lil Wayne is reportedly being sued for tens of thousands of dollars, but this time it's American Express!!!
Flip and get the latest legal troubles Lil Wayne is dealing with…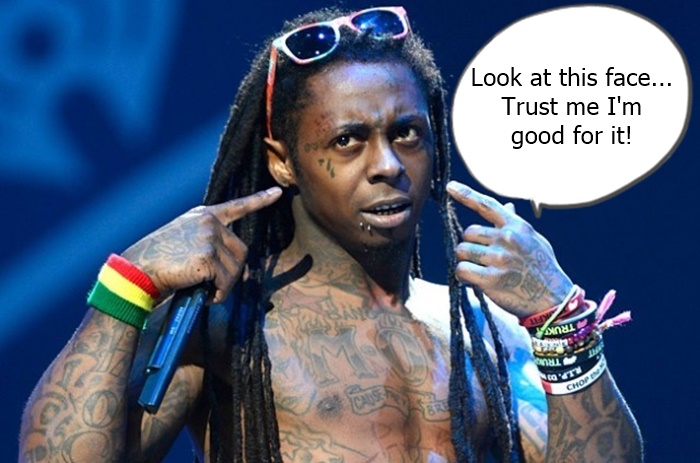 CelebNMusic247.com has learned that Lil Wayne who has endorsement by Samsung is unable to pay his American Express (AMEX) bill?
Who is his financial advisor?
Is Weezy brain dead? WTF dude you make too much money for this to happen. Either Wayne is utterly irresponcible or he has a crappy team of financial advisors? This should be on auto pay and NEVER be a problem. We could go in and set all this up for Lil Wayne with our eyes closed. Somebody is NOT doing their job.
The Young Money Entertainment rap mogul's American Express (AMEX) bill is said to be more than six months overdue.
SMH!!!
According to TMZ, AMEX allegedly filed a lawsuit yesterday (July 14) against the 33-year-old rapper, real name Dwayne Carter Jr., for the outstanding amount of $86,396 .

According to documents obtained by TMZ, Lil Wayne has owed the credit card company the money since December 2015, and they are moving to recover the full amount, plus its legal fees..
Unacceptable!
The lawsuit is the latest in a string of legal issues faced by the rapper.
This is NOT the first time Lil Wayne has NOT paid a bill. Back in 2014 he was sued by a private jet company for non-payment of his bill, and after losing the lawsuit from Signature Group, Wayne was forced to repay the company $2 million.
In March the rapper hit bosses at Universal Music Group (UMG) with a lawsuit over allegedly failing to repay him on royalties made by his proteges including Drake and Nicki Minaj.
Wayne is seeking at least $40 million in damages and overdue profits, as well as a "judgment declaring the parties' respective rights with regard to Plaintiffs' share of label performance royalties."
Like we said,Another day another rapper lawsuit in the world of YMCMB!!!
Thoughts?