R Kelly is back in the news thanks to his ex-wife, Drea Kelly who believes that Robert was behind the gun threat at Lifetime's Tuesday night New York City screening of its docuseries Surviving R. Kelly.
Things came to a grinding halt at Lifetime's Tuesday night New York City screening of its docuseries Surviving R. Kelly when the NeueHouse Madison Square Garden theater had to be evacuated due to a gun threat. Read on…
CelebNMusic247.com reports that Kelly's ex-wife, Drea Kelly, #MeToo founder Tarana Burke, and multiple survivors of Kelly's alleged abuse were in attendance at the screening.
The crazy thing is that an anonymous call to the NYPD alleging the threat on the theater came from Chicago, where Kelly has a residence.
#MeToo founder Tarana Burke took to Twitter Tuesday evening to comment on the incident:
So…Y'ALL ARE NOT GOING TO BELIEVE THIS! Tonight was a private screening of the @lifetimetv documentary #survivingRkelly where his survivors, parents of survivors, and folks featured in the doc were gathered and a BOMB THREAT was called in and the event shut down. #muteRkelly.
Burke continued:
The worst of it isn't the threat though bc it didn't appear to be credible but the survivors who had to endure his harassment. #muteRkelly.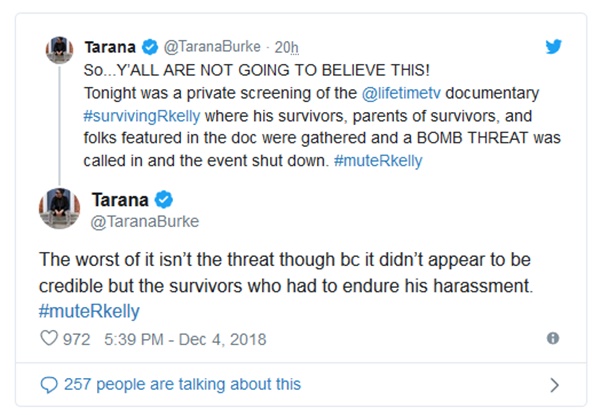 Meanwhile, Drea Kelly revealed to RollingStone:
The first thing that came to my mind — and I can't speak for anyone else — was that [R. Kelly] had this shut down. I believe it was somebody connected to him. This was an outside inside-job to me; someone on the outside does not want what's going on on the inside to be completed. Whoever it came from, they know that this is not a good thing because there's power in numbers.
At this time, R Kelly has yet to comment on the alleged incident.
However, Drea continued to alleged to Variety:
I don't believe in happenstance, I don't believe that anything is a coincidence. I do believe that in some shape, form or fashion it is connected to him. Now, whether he orchestrated it or not, that I cannot say. But I just do not believe in coincidences. Of all the theaters, of all the nights, of all the premieres, it happened with us.
Following the evacuation, Lifetime said in a statement:
As a precaution we evacuated. Tonight's all about the safety of everyone, we're not even thinking of what to do next yet.
NeueHouse Madison Square Garden issued its own statement:
Despite non-credible threats called in during tonight's screening, we followed appropriate safety protocols in collaboration with the NYPD and elected to postpone the event. We stand by the creative women bringing these heroic stories to light.
Drea assures woever attempted to prevent the doc from being shown, their plan has backfired:
What people don't understand is that we are a fire that is burning and it's never going to go out. They thought they were putting us out; they just put gasoline on a fire and now we're just gonna burn longer and stronger.
Despite the accusations, negative headlines and claims, R Kelly is still selling out shows: