LHHA's O'Shea Da Model Admits His Wrongs with Erica
Monday's episode of Love and Hip Hop Atlanta sent ladies everywhere into a fit of outrage while clutched their pearls after Erica Dixon's new boyfriend O'Shea da Model offered to pick up the tab but made her pay.
The incident took place on Erica's double date with Karlie Redd and Yung Joc. O'Shea is gorgeous, but even Joc made fun of him for self promoting himself wearing a hat that said model.
Days before last episode of Love and Hip Hop Atlanta aired Erica Dixon revealed that she and O'Shea Russell aka O'Shea the Model  had officially SPLIT.  She said fans will see why they ended up breakup and if it was any inclination that O'Shea was a fine brother with NO MONEY, we totally understand, because that is NOT cute.
Love and Hip Hop Atlanta fans have been grilling him since Monday:
CelebNMusic247.com has now learned via O'Shae that he admits that he was wrong and seeing that on TV as a first impression is NOT good.  O'Shea admits to his wrongs that aired on Love and Hip Hop Atlanta with Erica Dixon. O'Shea posted these video responses to treating Erica Dixon wrong and for being a jerk,
"Ok ok ok I was dead wrong for the way I went about it, I agree no woman should be put in that situation."
Watch:
But O'Shea Russell has been getting grilled by almost everyone for asking Erica to pay with her credit card.  He has been taking a lot of HEAT, but at least O'Shea is owning up being cheap:
Russell writes:
"Yes I clearly need to do better when it comes to making relationship decisions, but let's be real these videos and comments got me weak… you laughing or nah…. s/o to @sunnyphoenixvision @sunnyphoenixvision and his crew for this… and S/O to my fam @joclive for offering to help a brother out #RESPECT #HUMBLE & lets to be clear on one thing being blessed does not make you no where close to being perfect… #ENJOY #KEEPTHEFAITH"
Take a look:
All Jokes aside, O'Shea says despite his cheapness, Erica stood bye him in his time of need when he was hospitalized last June 2013.
He writes:
"Transsfmation Tuesday… All jokes aside I'm just happy to be walking yet a long laughing at all of this none since. But truth be told @msericadixon was there for me in my time of need… But to GOD be all the glory #THETRUTH #TRUSTGOD #TEAMBLESSED #KEEPINGTHEFAITH"
Take a look: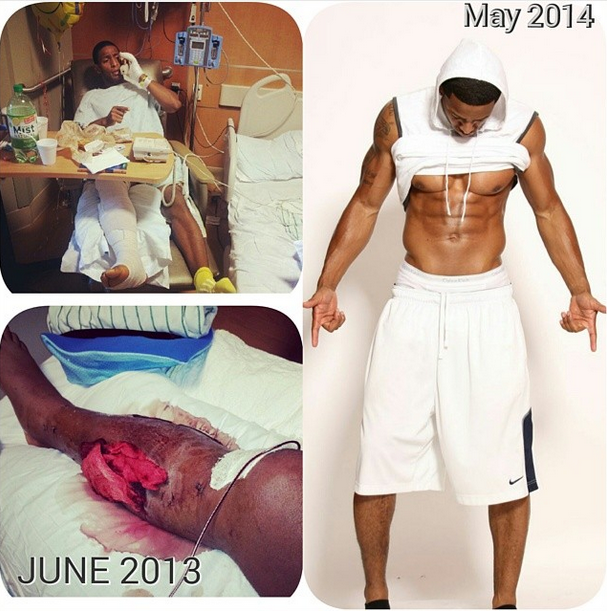 Kamaal Shawn Rollins Prince of cakes speaks out in defense of O'Shea the Model:
"My big bro @osheadamodel is a kool guy. He never has asked from anyone. Something are just made for T.V… He is a good guy and I had did so much work with him. Never had a problem with him. My bro @osj

My bro @osheadamodel has been throw a lot. From being in an accident and losing his younger brother. He has been throw much. And you not knowing what else. He is a great friend and father. Before judging. Look into ppls life… one love ppl"
Thoughts?
Related articles