Former member of the original R&B group "Destiny's Child" LaTavia Roberson had something to say about Beyonce, Kelly Rowland and Michelle Williams DC3 reunion at Coachella.
We are hearing a rumor that LaTavia Roberson is now denying speculation that she shaded Michelle Williams during the Destiny's Child reunion during Beyonce's Coachella performance.  Read on for more tea spilling…
Many Destiny's Child fans would love to see all five of the women get back together, but it hasn't been DC5 since 1999.
Mathew Knowles cleaned house, and without LaToya Luckett, and LaTavia Roberson, Beyonce stands out more. #RealTalk
With that said, CelebNMusic247.com has learned that after Beyonce reunited with Michelle Williams and Kelly Rowland at Coachella, LaTavia Roberson gave props on her Instagram page.
LaTavia a photo showing love with the caption:
I know the fans want a DC5 reunion but it's all in timing. I support every last one of those ladies that performed last night. I saw lil sis Solange giving that H-Town style so let's just enjoy 2018 THANK YOU for the love and support. #teamlovers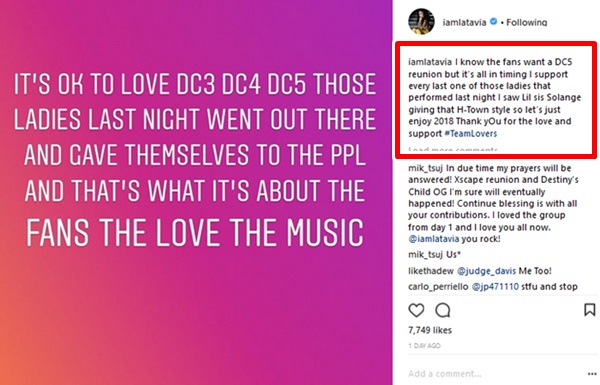 However, the SHADE came when she posted a coment on T Madison's page co-signing T's feeling about the Destiny's Child reunion going in on Michelle.
Take a look and see T Madison went in on Michelle and Latavia co-signed T's feeling about Williams Destiny's Child performance: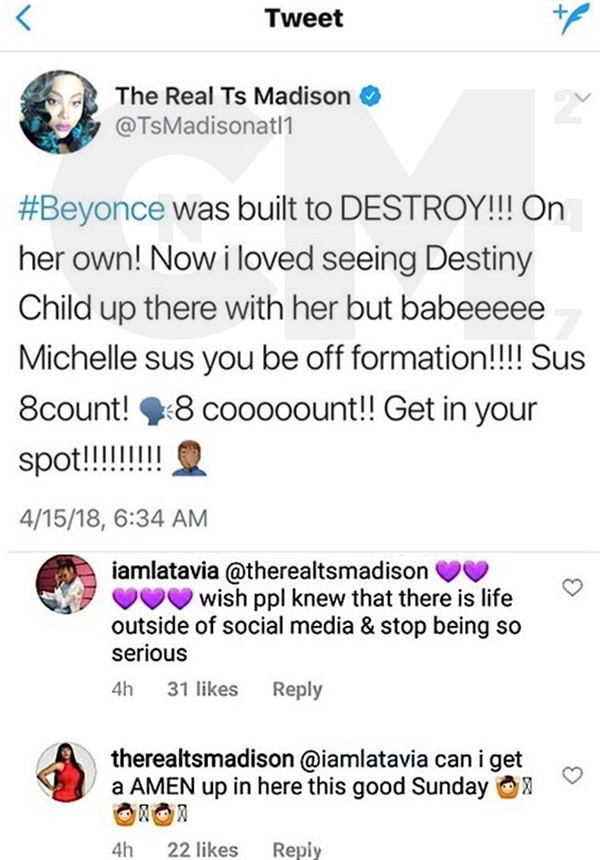 The Shade is REAL!
Thoughts?