It has come to our attention that the mother and daughter who are claiming that Kyle Massey sent her daughter lewd photos and videos are wanting to settle out of court.
The red flags are raised at full alert because this is starting to sound like a money grab. Read on why…
CelebNMusic247.com previously reported that Kyle Massey momanger Angel Massey wants justice for her son claiming that these two women are just out for his money.
Kyle Massey has a net worth of $3 million, and according to reports, Jane Doe is wanting to settle out of court for a price tag of $1.5 million dollars. That is half of his worth. He has been with his girlfriend Hana Giraldo, so none of the claims makes sense.
Kyle has been on the level with the mom and her daughter, but we are hearing that he has only spoken with the mom since the beginning.
PEOPLE reports:
The girl and her mother — who also was not named in the suit — claim that Massey had "held himself out as a father figure" to the young girl.

Their communication restarted again in November 2018 when the teen texted Massey and explained that she would be interested in auditioning for a reboot of his spinoff series Cory in the House.

During their communications, Massey was allegedly informed over a series of text messages included in the court documents that the girl was in 8th grade and four years away from graduation. It was also said that Massey requested to be the girls friend on Snapchat, and that is where this all starts.

Shortly after, the girl claimed Massey sent her "numerous sexually explicit text messages, images, and videos."
Though, we must point out that 13-year-old texted him from her mom's phone.
Kyle's momanger pushing for #HeToo Movement asking "Where is the justice for MEN?"
Angel Massey took to Instagram stating:
KYLE MASSEY IS THE VICTIM! Where is the justice for MEN?! Women get to say and do what they want and file lawsuits under JANE DOE! No, the mother name is Kindra Andreas. My son name is Kyle Massey. Kindra is another mother just like me. Why does she not list her name in her complaint? This is #hetoo You can't even look into her background without a name. What if this is a pattern from her? You would never know if her name is always JANE DOE on lawsuits? Just my opinion. My constitutional right to freedom of speech. Not accusing her of anything JUST MY THOUGHTS.
She added this post with the word psalms 35: 1-9: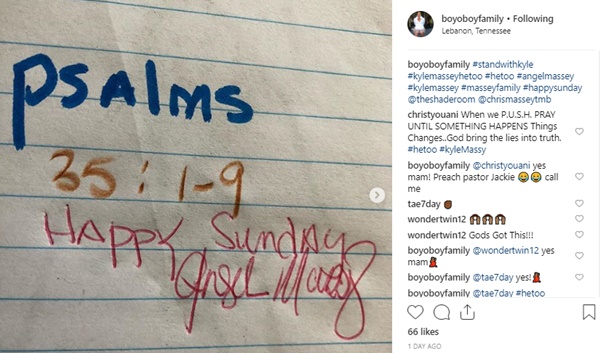 The post is basically stating this "This cry of distress is the petition of a man falsely accused."
Currently, the Disney Channel's That's So Raven and his spinoff, Corey in the House, will be joining The Hills: New Beginnings on MTV. Kyle will be one of the new faces on the docuseries that stars original cast members, Lauren Conrad, and Kristin Cavallari according to US Magazine.
If you suspect child abuse, call the Childhelp National Child Abuse Hotline at 1-800-4-A-Child or 1-800-422-4453, or go to www.childhelp.orgthis link opens in a new tab. All calls are toll-free and confidential. The hotline is available 24/7 in more than 170 languages.