Apparently, Kim Kardashian caught bullying the fast-food chain Jack in the Box!
The crazy part is that Kim Kardashian is stark raving mad…Nah she bullied Jack in the Box for relevance and to flex her power. Kim used her Kanye West style tactics on social media. Read on because was either Kim Kardashian Stark Raving Mad or bullying Jack in the Box…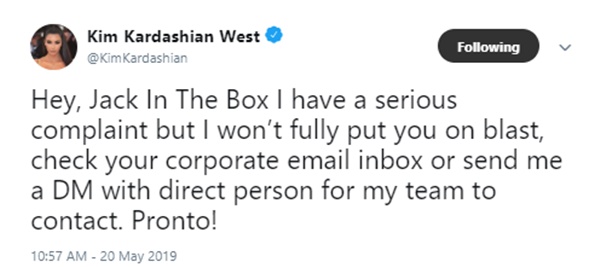 CelebNMusic247.com is a bit disappointed with Kim Kardashian and her latest tweet going at Jack in the Box.
The Keeping Up With the Kardashians star took to Twitter on Monday, May 20, to share a series of mysterious messages aimed at the fast-food chain.
Mean Girl Kim Kardashian just killed all the good that she has done with just one tweet bullying Jack in the Box.
Kimmy K writes:
Hey, Jack In The Box I have a serious complaint but I won't fully put you on blast, check your corporate email inbox or send me a DM with a direct person for my team to contact. Pronto!
First off, who does she think she is with that "Pronto" statement?
The 38-year-old followed her vague post to clarify the nature of her gripe with the popular restaurant, writing:
I would like to add that this is not about me or a wrong order. Nobody recognized me and it's something that I observed that affected other customers at this particular location that was concerning.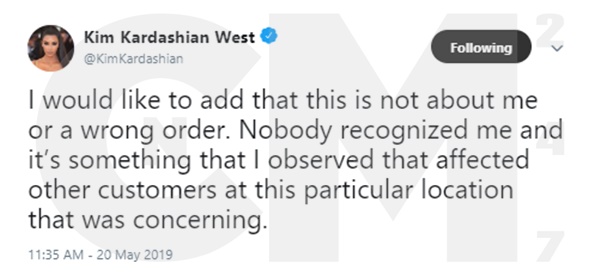 OMG!  Kim are you serious?
Kanye has surely rubbed off on Kim because this is too much.
Jack first tried to reach out to Kim but they had problems with her DM. They tweeted for all to see:
Hi Kim, we are unable to DM you. Please send us a DM with how we can get in touch with your team & someone will reach out immediately.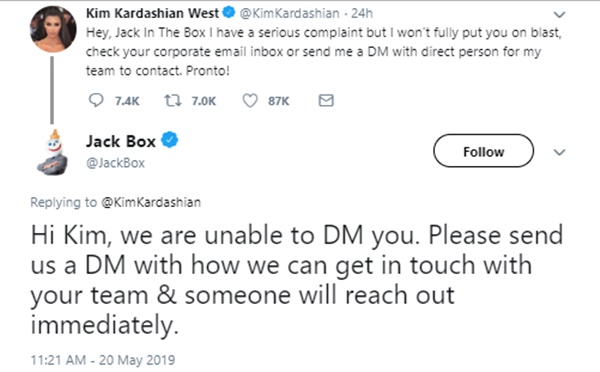 Jack in the Box responded, providing some additional insight into what may have ticked off the well-known star. The KKW Beauty founder declined to elaborate on what her "complaint" was, about eight hours after her initial tweet she shared:
Thank you @JackBox for the quick response and handling the situation!
With a roll of the eyes the eatery tweeted back:
Thanks, Kim, for talking with us today. We are taking actions to ensure that everyone has positive experiences when visiting Jack in the Box.
Still, given Kardashian called out the company in front of her 60 million Twitter followers without really divulging what happened, many celebs were quick to criticize her approach.
Real Housewives of New York City star Bethenny Frankel weighed in questioning Kim's bullying tactics:
Hey @JackBox there is a woman wearing a red sweater with shoulder pads at your Hickory, NC location. Can you tell me what brand it is? #dontblastJack @KimKardashian.
Another follower CLAPPED BACK at Kim saying:
The fact that you have this much power and are tweeting about jack in the box makes me sad. Take a stand against the systematic gang raping of children or something.
Wendy's responded to Kim:
but like, who even goes there?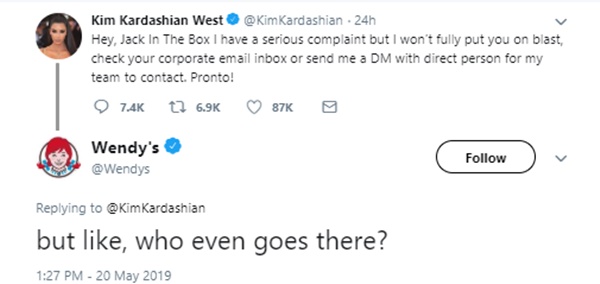 At the end of the day, she has us talking about her at the expense of her bullying Jack in the Box. Kim you should be ashamed of yourself. #Pathetic #SMH #SAD
Check out Kim's Tweets. She was just trying to prove a point by FLEXING her power. #SMH