Now we love Kid Rock's music, but we are NOT loving his political views or his backwoods viewpoints when it comes to Taylor Swift.
Early on Friday Kid Rock decided to take shots at Taylor Swift by basically saying that she is doing oral favors to better her career in Hollywood. Read on…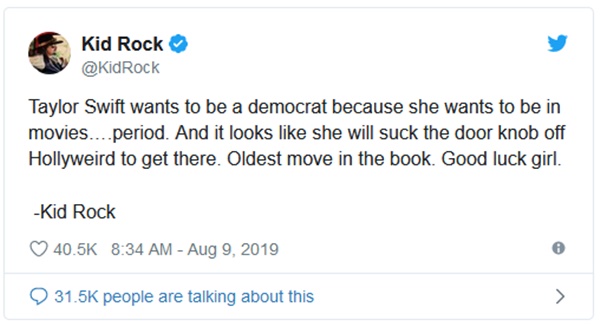 CelebNMusic247.com reports that Kid Rock, who is an obvious Donald Trump supporter woke up Friday morning and, much like POTUS, decided to go on the attack in way of Twitter.
Go figure, Kid Rock is following Trump's spinless way of attacking America by using social media to get his point across.
Kid Rock's taking a shot at Taylor Swift's jump into acting by claiming she's down to trade sex acts for movie roles.
Rock went on the attack and his target was Taylor Swift claiming:
She "wants to be a democrat because she wants to be in movies … period. And it looks like she will suck the doorknob of Hollyweird to get there. Oldest move in the book. Good luck girl."
Bottom line, it was a pretty transparent and petty political attack by Kid Rock.
We have no clue where this comes from and why, but this probably has to do with Taylor Swift Advocacy for LGBTQ rights and how Trump continues to remove gay rights and dissolve equal rights for certain Americans. You know, Blacks, Mexicans, gays, Transgender, and anyone he doesn't deem that fits in his "MAGA" ways.
Having a "Good Ole Boy" in the office is NOT what America wanted. They wanted change, they wanted to shake things up, but NOT like how Trump has been doing. America voted in a racist bigot and now the Red Hats are doing everything in their power to keep him there.
Take for example Miami Dolphins owner Stephen Ross, who also owns SoulCycle and Equinox gyms, he's holding a Trump fundraiser in South Hampton.
Kid, who famously visited Trump in the Oval Office back in 2017, clearly doesn't care about Taylor's explanation. Rock is apparently PISSED Tay Tay is NOT backing his guy in the White House.
Chrissy Teigen weighed in on Kid's rant and summed it up with two words: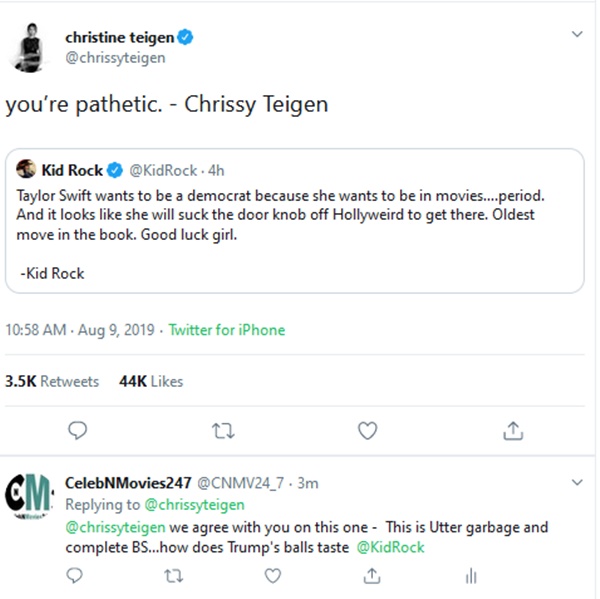 CelebNMovies247.com co-signed Teigen's views.