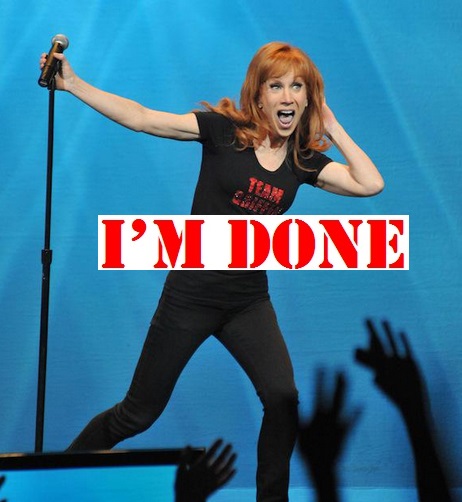 Kathy Griffin Quits Fashion Police!!!
First Kelly Osbourne quits Fashion Police and now Joan Rivers replacement Kathy Griffin Quits Fashion Police claiming she wanted to quit from the get-go.
Fashion Police is a Joan Rivers made show and as E is learning there is nobody who can replace the comedic legend. Joan's friend Kathy Griffin, who is a brilliant comedian is now the second star to leave E!'s hit series.
Kathy Griffin has thrown in the towel, quitting "Fashion Police" because she thinks it's too mean-spirited.
Griffin just tweeted:

"I thought I could bring my brand of humor to Fashion Police so that beautiful people in beautiful dresses could be teased when appropriate." Griffin adds, "My brand of humor, while unrepentant and unafraid, is all about CONTEXT. There's plenty to make fun of in pop culture without bringing people's bodies into it."

Griffin was not specific on what changed her tune, but she did say:

"I do not want to use my comedy to contribute to a culture of unattainable perfectionism and intolerance towards difference."
Here what Kathy said on her Twitter: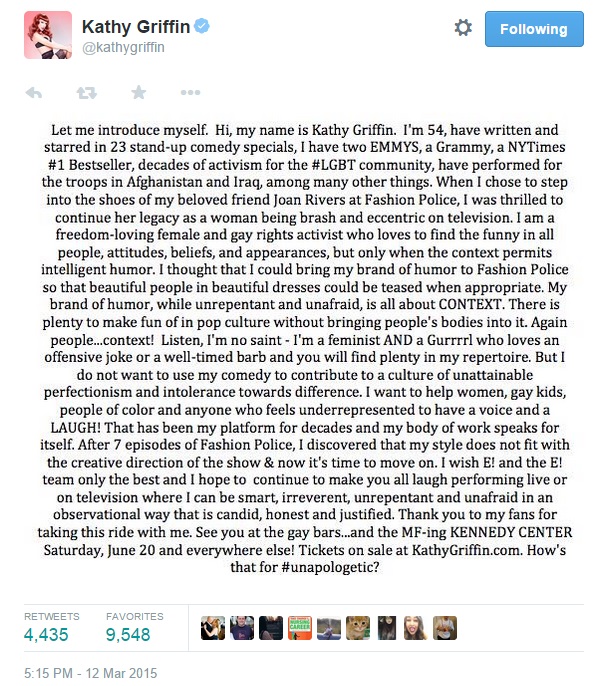 It appears that "Fashion Police" is a sinking ship since Giuliana Rancic's racist remark against Zendaya during the Fashion Police Oscar red carpet recap show. Now they will not only have to replace Kelly Osbourne since her seat is up for grabs, they have to find a new host to take over Kathy Griffin's spot as well.
CelebNMusic247.com has this to report via TMZ who has this hot tea to spill:
Kathy Griffin is DONE with Fashion Police since she felt that FP producers crossed the line during a pitch meeting for the upcoming show.
We're told there was a pitch meeting for the show several days ago in which someone in the room pitched an idea called "Whore Score." We're told the idea was rejected because it was too mean.

Kathy ranted about the segment idea saying, "Name calling and alliteration with no comedic context is simply the lowest hanging fruit." She then made "Fashion Police" sound old school and tired.

Our sources say Kathy's comments infuriated the production staff. They felt she violated confidences and took a shot at her own show. They also said she was a hypocrite because they claim her shtick is exactly what she described.

Our sources say hours before Kathy tweeted her resignation, producers had a meeting and talked about giving her the ax.

But Kathy says her resignation was brewing for weeks. She says it's the classic bait and switch … she was told she could do her brand of comedy, but when push came to shove they wanted the same old crap. Kathy says she threatened to quit at least 3 times but producers kept making empty promises.