Tomi should have NEVER asked! Tomi Lahren apparently wanted an interview with Kathy Griffin!
You can all guess that it went left when they reached out the comedian Kathy Griffin who responded with a big F**k You to Tomi Lahren.
Read on to see what Kathy Griffin said…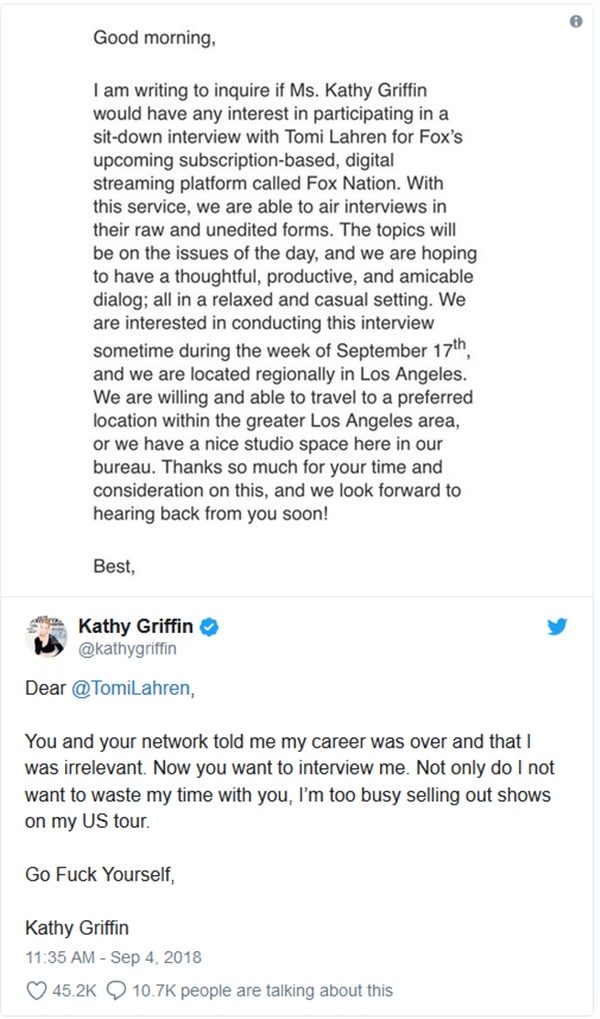 CelebNMusic247.com doesn't blame Kathy Griffin one bit for how she responded to the FOX Network.
When you do someone wrong, you look like a complete ass when you turn around and want to work with them again..
Comedian Kathy Griffin has absolutely zero interest in sitting down with the conservative host.
Griffin today shared the email she got about a potential sit-down with Lahren for Fox Nation sometime this month.
Griffin simply responded with these words:
You and your network told me my career was over and that I was irrelevant. Now you want to interview me. Not only do I not want to waste my time with you, I'm too busy selling out shows on my US tour. Go F**k Yourself.
Read the full response above, because Kathy let's FOX know to NEVER ask her for anything.
We get it, Never spit in the ashtray you might have to lick, but its Hollywood, and girl say no thanks and then collect that check. Tell them FU after it and get paid for it.