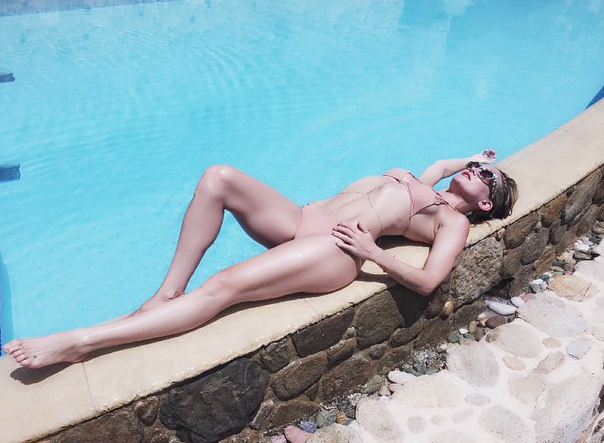 Kate Hudson Nude In Greece?!?
The 36-year-old bombshell Kate Hudson Nude In Greece, showed off her rocking body in a barely there nude bikini while on vacation.
Hudson took to Instagram to share with her fans photos of herself sunbathing in Greece next to the water with the caption, "When In Greece" (as seen above).
Then she shared a note of inspiration saying:
"Life isn't about waiting for the storm to pass. It's learning to dance in the rain."
[rpi]
The actress is on vacation to celebrate the start of summer with her mother, Goldie Hawn, and her sons Bingham,6, and Ryder,11.
Hudson's  followers eagerly commented on the sexy bikini pic, saying:
"If only the greek economy looked this good…annnd my confidence is gone."

Another fan added:

"Hope you enjoy your summer in Greece…perfect body for the perfect women!"
Back in February, Hudson told Shape Magazine:
"It's not just about trying to look good physically, it's important to get oxygen to my brain and feel like my blood is really circulating."
All we can say is Summer NEVER LOOKED SO GOOD!