We get it, Justin Bieber hates the pressures of fame, but telling everyone that glamour of celebrity life is a façade isn't so smart of a move.
If Justin Bieber is NOT a fan of his lifestyle because it actually more work than play, then he should get out. Read on to see what his fans are saying about his recent statement because its not sitting well with any of them…
CelebNMusic247.com has noticed what other sites haven't so remember who gave this to you first!
After being thrusted into the spotlight and becoming part of the music industry machine, Justin Bieber has lived a life that not many 50-year-olds have had the opportunity.
He was a hungry creative mind wanting to sing and make music in the beginning, but over time, it wore the Canadian native down. These days, Justin Bieber would rather spend time with his family and remaining relatively low-key in terms of public appearances these days.
Bieber appreciates the simpler things in life, instead of star-studded events like the MET Gala.
Justin still has a lot to learn because he decided to tell his fanbase on Instagram:
HEY WORLD THAT GLAMOROUS LIFESTYLE YOU SEE PORTRAYED BY FAMOUS PEOPLE ON INSTAGRAM DON'T BE FOOLED THINKING THEIR LIFE IS BETTER THAN YOURS I CAN PROMISE YOU IT'S NOT!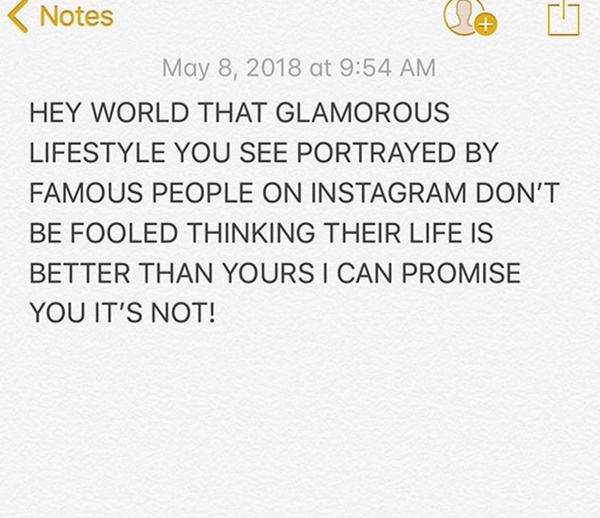 Justin Bieber Backlash: His Statement Rubbed Everyone the Wrong Way.
One follower responded with story of struggle:
I cried when my grandma transferred me $20 for gas because I'm still paying off medical bills from a surgery. I would much, MUCH rather be rich and have hardships than be poor and have hardships. Big talk coming from someone who doesn't have to worry about falling on hard times.
Another replied:
Although Justin you guys hate to admit it but, you guys have so much money like its like nothing you can do whatever us "normal people "could ever possibly imagine you can send your kids to any university they want, hell you never have to worry about when you're gonna eat. So…yes you do have better lives.
The backlash continued:
[Justin], the fact that you can buy whatever you want and when you get older you will have more money then 95% of people and you get to work with people like Paris Jackson & stupid Kardashians so how about you stop complaining about how bad your life is and get back to earn thousands.
Even his diehard Beiliebers sounded off:
Not being famous is hard because we have to work and do stuff. My mom and dad are always so tired and me and my brother barely get to spend time with them.You just get paid for being famous. Like i said i love you so much but your life is way easier than people who are not famous!
Maybe Justin should reach out and send money to some of his fans who obviously need the help?