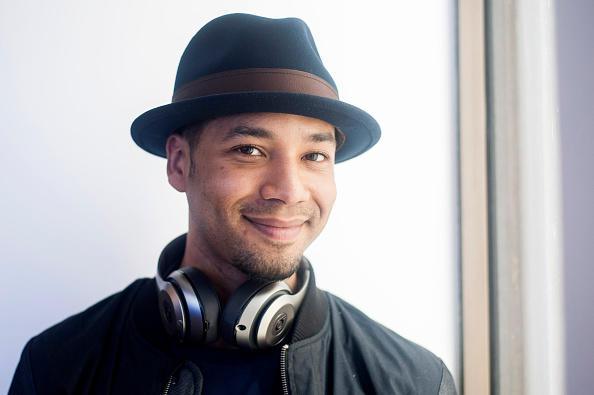 Jussie Smollett Deads Empire Rumors!
Forget what you heard about pettiness running rampant on the set of "Empire"  because Jussie Smollett Deads Empire Rumors leaking from a The Daily Mail.
If you ask Jussie Smollett everything that The Daily Mail is claiming is straight up BS when it comes to Taraji P. Henson and Terrence Howard were stirring up all sorts of trouble on the set of "Empire.".
According to the British paper, the onscreen animosity between Taraji and Grace Gealy (aka Boo Boo Kitty) was real. We know that is FALSE, because we spoke to Grace and she told CelebNMusic247.com exclusively that she loves working with Taraji and the two ladies had a lot of fun with their scenes on season 1.
The British paper also claimed that Terrence was largely responsible for having Malik Yoba's character killed off. We know that is completely a lies because we spoke to and inside source about what really happened and out of respect to Lee Daniels TV series Empire we are NOT at liberty to speak on the matter. All we can say is Terrence had NOTHING to do with it. What we will say is this, Malik needs to look in a mirror and then you will know who it the blame, because he pulled the same stunt on NY Undercover back in the day.  Blogs weren't around then, but if you know what he did, then you know what cause his death on Empire.
All the speculations of Malik's end on Empire are wrong. We gave a big hint to the truth, but like we said we are NOT at liberty to say anything. you have to figure it out from our hint.
As for Jussie, he spoke to our friend B. Scott saying:
"That's all bullsh*t, 100% of it. We all love each other, period."
In related news, Real-life record label Empire Music is clapping back at a federal lawsuit filed by Twentieth Century Fox Television.
Empire founder and CEO Ghazi Shami released a statement, claiming the show has been edging in on the label's brand because of how Fox has been operating the actual music business attached to the show.

"Fox, through the Empire program, advertises, distributes, and streams music and sells downloads under the 'Empire' mark," Ghazi stated. "This music shares the same search terms as EMPIRE's music, the musical genres are identical, and the songs and albums are positioned in close proximity in online outlets such as iTunes, Google Play, Amazon.com, and Spotify. It isn't just a fictional show; they are functioning as a record label in the real world." Legal reps for the company took it step further, stating, "We are confident that this is a textbook trademark infringement case."