What seemed to be an attempted gay-bashing has turned into a scandalous Lifetime story in the making as "Empire" star Jussie Smollett has been charged with disorderly conduct for allegedly filing a false report.
Last month Jussie Smollett claimed that two men attacked him, but now it appears the whole story was made up for headline news. Read on to get the latest report from Chicago PD…
CelebNMusic247.com reports that Chicago Police spokesman Anthony Guglielmi tweeted that detectives were presenting evidence before a Cook County grand jury.
4 hours ago Gulielmi too to social media to update fans and media:
Case Update: Jussie Smollett is now officially classified as a suspect in a criminal investigation by #ChicagoPolice for filing a false police report (Class 4 felony). Detectives are currently presenting evidence before a Cook County Grand Jury.
He officially announced:
Felony criminal charges have been approved by @CookCountySAO against Jussie Smollett for Disorderly Conduct / Filing a False Police Report. Detectives will make contact with his legal team to negotiate a reasonable surrender for his arrest.
Smollett is deep deep deep trouble with Chicago police for fabricating he was attacked.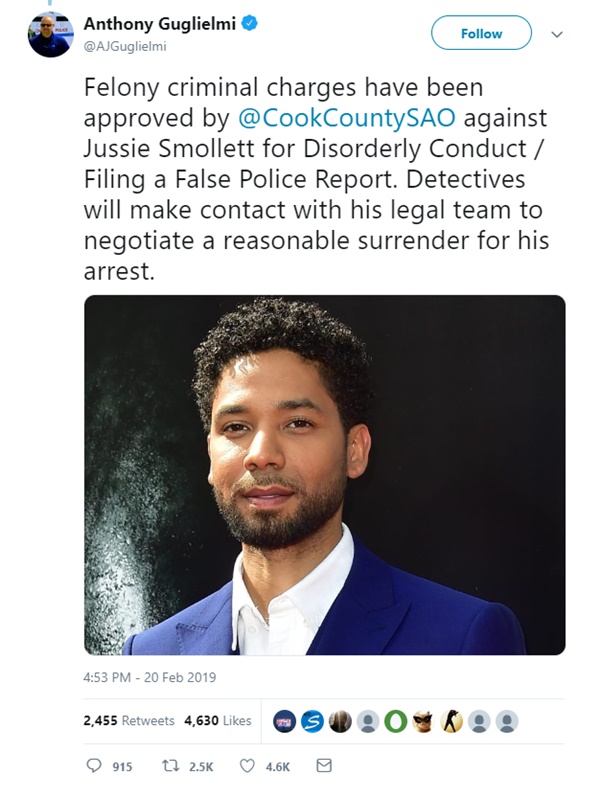 Empire star Jussie Smollett has been charged with federal disorderly conduct on Wednesday, the Cook County State's Attorney's Office confirmed.
The report by the Hollywood Reporter reads as follows:
The charge is a class 4 felony, according to Chicago Police spokesman Anthony Guglielmi, which carries a potential sentence of one to three years in prison and up to $25,000 in fines. According to the relevant section of the Illinois statute, such a charge occurs when a person makes a report of a crime to peace officer while knowing that the information isn't true, doesn't have the "reasonable grounds necessary" to believe that it will contribute to the public's safety or calls 911 with a "false alarm or complaint."
The development comes just hours after Guglielmi tweeted that detectives were presenting evidence before a Cook County grand jury.  Fox and 20th Century Fox Television declined to comment on the new classification.
Meanwhile, Smollett's lawyers said in a statement:
Like any other citizen, Mr. Smollett enjoys the presumption of innocence, particularly when there has been an investigation like this one where information, both true and false, has been repeatedly leaked. Given these circumstances, we intend to conduct a thorough investigation and to mount an aggressive defense.
On Wednesday, Fox and 20th Century Fox TV renewed its defense of the Empire actor, writing in a statement:
The statement reads:
Jussie Smollett continues to be a consummate professional on set and as we have previously stated, he is not being written out of the show.
To Recap Jussie Smollett's story:
Smollett originally claimed that he was attacked in the Streeterville neighborhood of Chicago on Jan. 29 by two men in dark clothing who called him homophobic and racial slurs. The Empire actor said the pair punched him, poured bleach on him and slung a noose around his neck while also invoking Donald Trump's campaign slogan "MAGA" ("Make America Great Again").
A week prior, Jussie Smollett charges he received a threatening letter at Fox's Chicago studios.
The shift in the case came when Nigerian brothers that Smollett claimed were the ones behind the crime. The brothers were spotted in an elevator with the two former suspects on the day of the alleged attack. The video evidence of Jussie, Abel Olsa "shifted the trajectory of the investigation," according to Guglielmi.

10 Olabinjo Osundairo and Abimbola Osundairo — were arrested February 13 but released without charges Friday after police cited the discovery of "new evidence." The two are no longer suspects at this time, Chicago police have said.
We want to believe Smollett, but everything keeps pointing to Abel and Olsa story that Smollett paid them.
Olabinjo Osundairo and Abimbola Osundairo were arrested February 13 but released without charges Friday after police cited the discovery of "new evidence." The two are no longer suspects at this time, Chicago police have said. – CNN
Do you think he's lying? Watch the video: