On Wednesday, both Joe Budden and The Read co-host Crissle were trending after Budden put her on BLAST for her comments on ASAP Rocky.
Joe Budden slammed Crissle during the podcast after she posted the following quote from ASAP about the Ferguson riots. Read on…
so this why Crissle dragging Joe Budden btw. pic.twitter.com/N5g4lYnicR

— Denzel. (@fauxdenzel) July 10, 2019
CelebNMusic247.com reports that Joe Budden said that ASAP Rocky is an "f-cking idiot" for his comments on Ferguson and Crissle timing is WRONG.
Joe Budden points out that bringing up ASAP Rocky's quote on Ferguson in the midst of the rapper's Swedish legal battle is distasteful.
He asks why is Crissle being judgemental on ASAP Rocky when she has no place in doing so?
See, Crissle brought up an old quote of Rocky's around the time of Ferguson. "I thought of this when I heard about ASAP Rocky's situation in Sweden," she wrote along with a screenshot of the quote.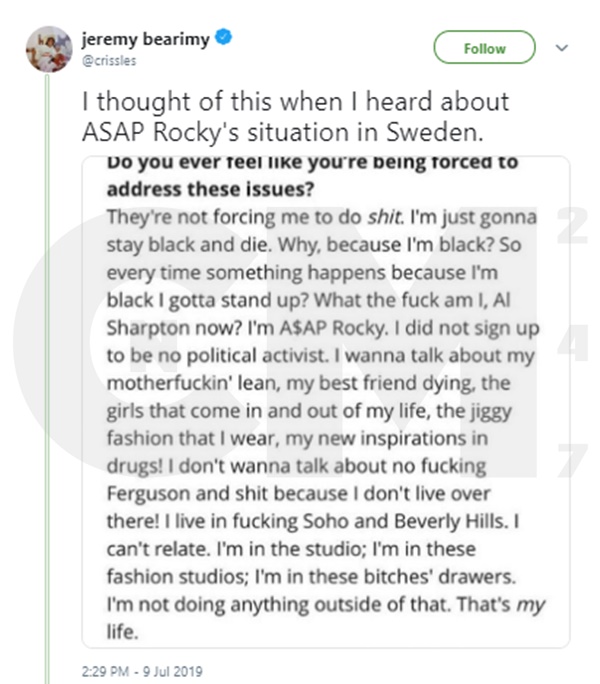 Budden unleashed on Crissle saying:
That's so nasty on Twitter. I seen her put it out. It's just like, you niggas that be preaching this pro black shit but get evil in a heartbeat. 
Joe Budden had this to say about The Read co-host Crissle:
I just get upset, and what I was really trying to say there was, like, yo, I just, I hate when the bandwagon stuff starts. I mean, how come, you know, black lives only matter when police take'em, when a police officer takes it? And it should be like, black lives, it should matter when a black life take it. You know what I mean? It should always matter. All lives matter!
He said on his show:
All lives matter.
After Budden got wind of Crissle bringing up the quote, he said the following:
I don't like that this is coming up now, I don't think it adds anything to the narrative. Nor does it change how I feel. If it changes how you feel, then you should look inside your heart. He's in a real f*cked up situation over there, how I feel about that is not altered by how he feels about anything.
Crissle caught wind of the comments and responded by saying Budden should be glad that she paved the way for him to get into the podcasting world.