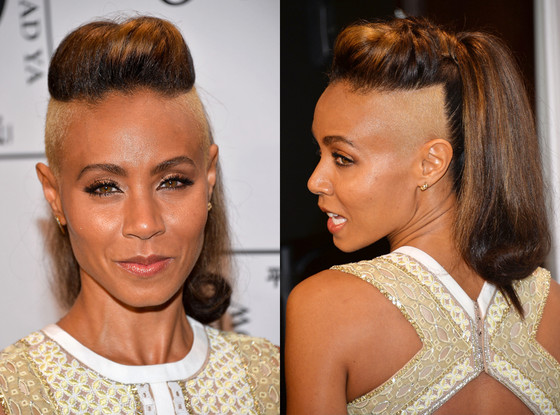 (CelebNMusic247-News) Jada Pinkett New Shaved Hair?
Last month Jada Pinkett Smith was snapped leaving the airport with a very edgy new 'do in which both sides of her head where completely shaved.
We weren't quite sure what to make of it and, to be honest, now that the actress has debuted it on the red carpet, we still aren't.
Has Jada just gone Willow on us?
At an event in Beverly Hills last night, the star flaunted her new hairstyle, which seems to be a modern day Mohawk: shaved bleached sides with her long hairpulled into a French-braid on top and a ponytail in the back.
Here's the drop:
While it is most certainly a rather odd combination, Will Smith's wife manages to pull it off, mainly due to her gorgeous feminine features. She wisely opted to complement her brunette hair with matching brown eye shadow and the blond peach fuzz paired nicely with her golden and white frock.

What do you think of Jada's new 'do?
Related articles