RUMORS are swirling that Nicki Minaj has a new man and he's very known on the streets and with the police.
Get the tea on Nicki Minaj and her alleged new boyfriend that she keeps popping up with around the streets of NYC. Read on to find out the details on Nicki Minaj new man…
CelebNMusic247.com has been doing some FACT checking and here is what we have learned about Nicki Minaj and her alleged new man.
We got a tip sent to us about the guy that Nicki Minaj is dating. We did some digging after they sent us the information.
According to sources on social media The Queen, Nicki Minaj has been linked to a new man who goes by the name of Zoo Bang.
Who is Zoo Bang?
According to NYSexOffenders.com, the 40-year-old man's real name is Kenneth Petty and he is a register sex offender in the state of New York. He is listed as a level two sex offender.
It is also revealed on the site that he committed the crime in 1994 and was convicted in 1995 for attempted rape in the 1st degree of a 16-year-old-girl. (allegedly)
Kenny Petty was sentenced to 18 Month(s) to 54 Month(s) State Prison Consecutive. He was arrested by NYCPD Sex Offender Unit.
CelebNMusic247.com wants to point out that it appears at the time of the crime, Kenneth was 18-years-old. Petty could have been a senior in high school, so is this crime justified?
He could have been tricked by the girl who claimed she was older but was actually 16. CelebNMusic247.com wants to point out, since the arrest, Kenny has to live with being a registered sex offender for life.
One stupid mistake cost him a lifetime of shame in the eyes of the media.
Take a look at his official page on NYSexOffenders.com below: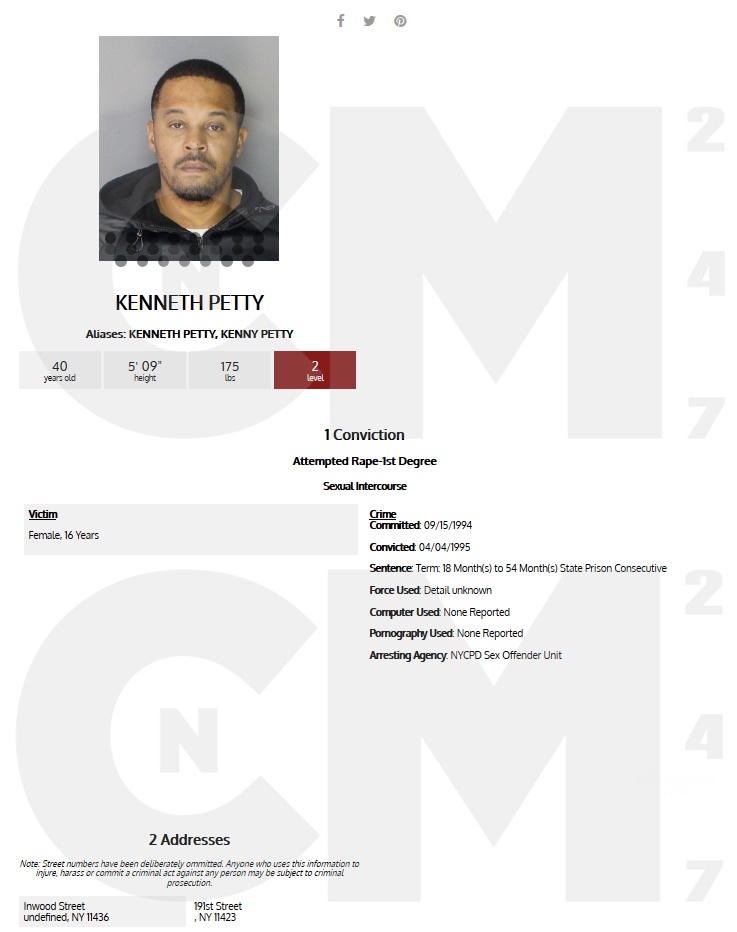 Here are the photos of Nicki Minaj and Kenneth Petty aka Zoo Bang spotted over the past couple of months.
Is this the type of man she NEEDS to be dating?
Her fans have NOT been too happy about it, that's the ones who know the tea.