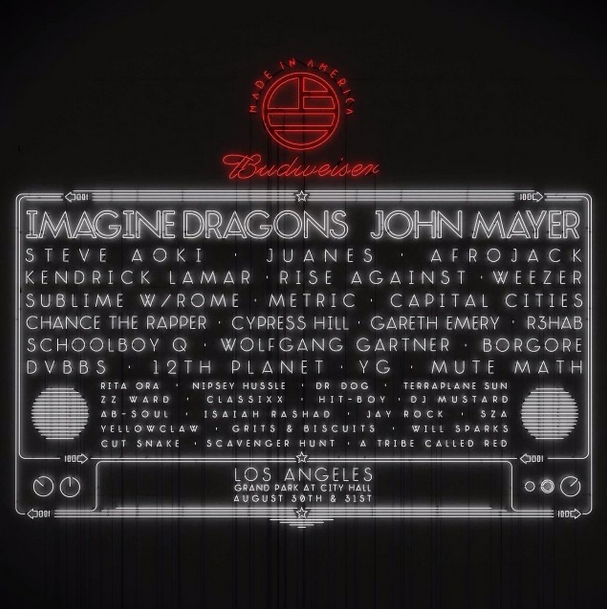 While Jay Z's Philadelphia edition Made In America Festival is going down on the east this year Hov has expanded the festival to the west coast in downtown Los Angeles for Budweiser Made In America. 
The headliners are in Los Angeles for year one of Made in America LA will be Imagine Dragons and John Mayer followed with a series of West Coast artists like Kendrick Lamar, Capital Cities, Nipsey Hussle, Weezer, Jay Rock, Sublime with Rome, Cypress Hill, YG, Hit-Boy, and R3hab. Other acts for LA include Chance the Rapper, AfroJack, Steve Aoki, Metric, Rita Ora, Rise Against, SZA, Dr. Dog, Mute Math, Juanes, ZZ Ward, DJ Mustard, Ab-Soul and many more for the holiday weekend. 
The first LA edition of Made In America, which will happen simultaneously with the Philly fest on 8/30-31, has announced its lineup too.  Besides the whole Black Hippy crew, let us not forget the lineup features two more affiliates of LA's dominant TDE Records in New Jersey's SZA and Tennessee's Isaiah Rashad.
If you want to head out to Philly for the east cast Made in America Festival the headliners include; Kanye West and Kings Of Leon plus the National, Pharrell, Girl Talk, Spoon, Chromeo, J. Cole, Grimes, De La Soul, Danny Brown, YG, Holy Ghost!, Young & Sick and more…
Here's the full lineup – Check the full lineup for the Budweiser Made In America:
Imagine Dragons, John Mayer, Steve Aoki, Juanes, Afrojack, Kendrick Lamar, Rise Against, Weezer, Sublime w/ Rome, Metric, Capital Cities, Chance the Rapper, Cypress Hill, Gareth Emery, R3HAB, Schoolboy Q, Wolfgang Gartner, Borgore, DVBBS, 12th Planet, YG, Mute Math, Rita Ora, Nipsey Hussle, Dr. Dog, Terraplane Sun, ZZ Ward, Classixx, Hit-Boy, DJ Mustard, Ab-Soul, Isaiah Rashad, Jay Rock, SZA, Yellowclaw, Grits & Biscuits, Will Sparks, Cut Snake, Scavenger Hunt, A Tribe Called Red…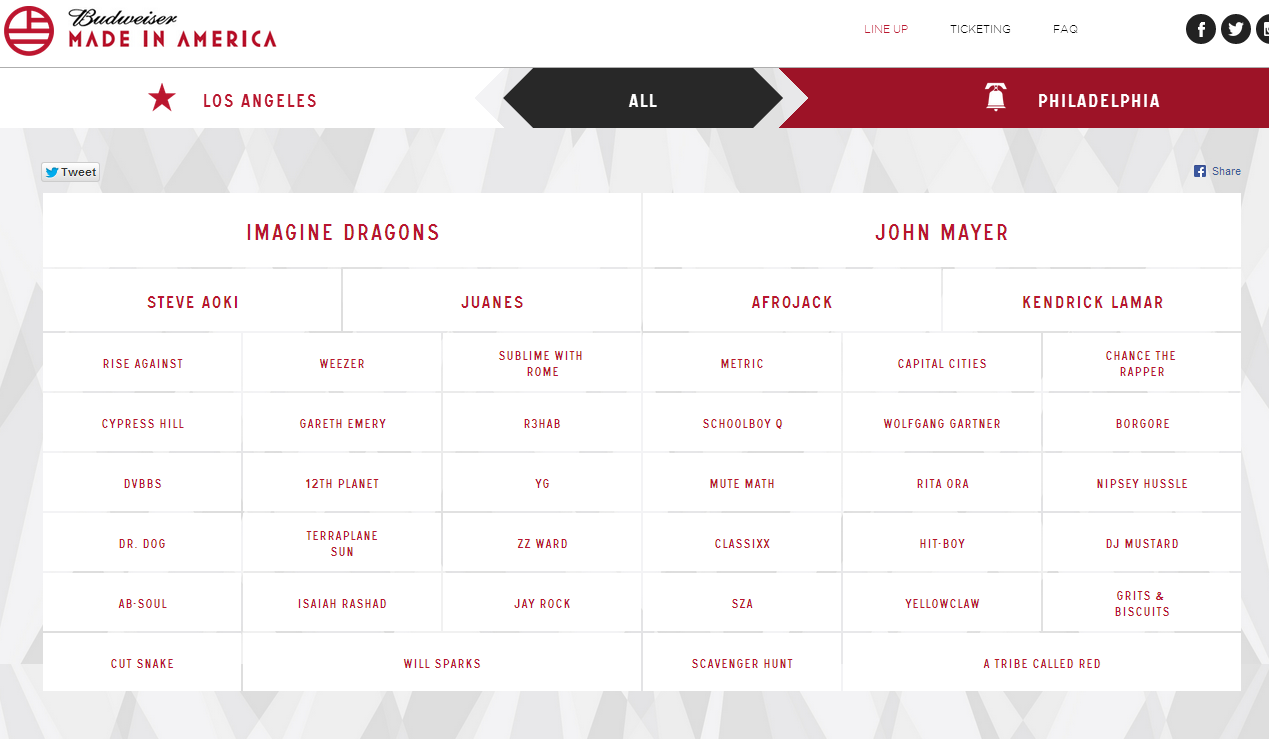 Related articles