One of the crowd please performances came from New York native, Halsey who suffered an asthma attack at BottleRock.
According to reports Halsey had a bit of a rough time at the 2018 BottleRock Napa Valley festival. Read on…
Halsey took to Twitter to make light of her scary situation during her time at BottleRock 2018.
If you have Asthma the Napa Valley is not the place for allergies this time of year.  Unfortunately,  Halsey found out while she was at the festival on Sunday.
"Bad at Love," pop star ended up being treated by medics on Sunday at BottleRock Napa 2018.
The "alone" singer who was greeted by 100,000 fans as she hit the Jam Stage on Sunday assured fans on twitter she is doing fine.
Halsey Twitted:
I "had an asthma attack onstage at @BottleRockNapa and ended up with the medics after my set!!!"
After word leaked that the "Hold Me Down" singer had an asthma attack, she posted this Tweet online on Sunday night: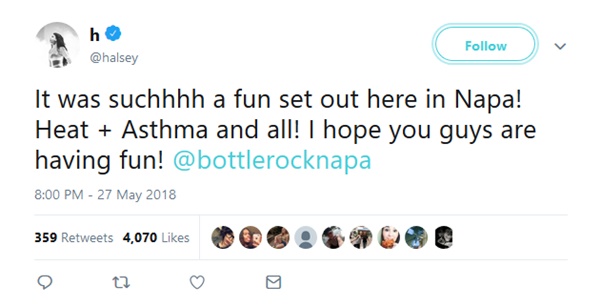 Ashley Nicolette Frangipane, best know as Halsey, a reference to a Street station of the New York City Subway in Brooklyn. She remained in happy spirits about the situation, jokingly crediting the attack to her lack of exercise back in high school.
She tweeted:
This is what I get for walking the mile in high school gym class byeeeeee!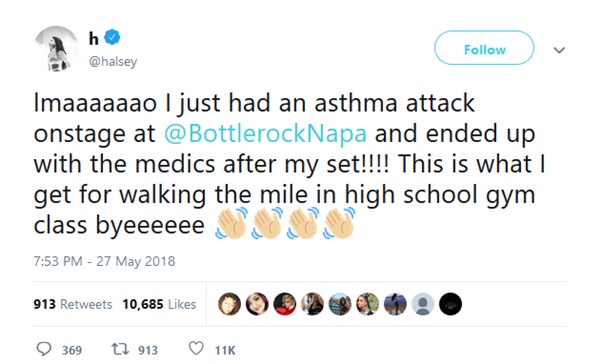 We have received word that Halsey is doing just fine, so no worries.
Were you there yesterday? did you see Halsey? She was great, right? If not she is currently on tour, so get your tickets now…she was great live: