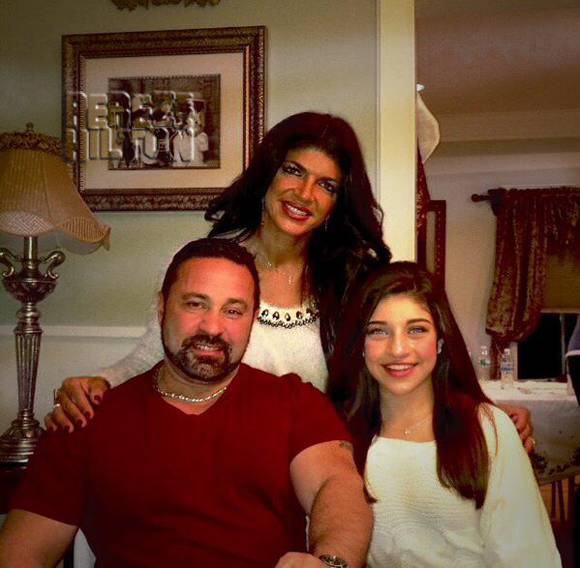 Gia Giudice Defends Joe Giudice Over Cheating Scandal!!!
There have been RUMORS that Teresa Giudice Daughter Gia Giudice Defends Joe Giudice Over Cheating Scandal just days after it was reported he was caught having an affair in Atlantic City!
CelebNMusic247.com has the tea thanks to Gia Giudice who is stepping forward to defend her dad Joe Giudice stating that he father is NOT cheating on her mom.
[rpi]
Gia took to Twitter to support her father's writing:
"Honestly hilarious how people go out of their way to make my family look bad..#nicetryppl"

The budding pop star, later added:

"I need a break from all this.. a new beginning." This makes me sad for Gia, she's 14, and forced to deal with so many adult issues.
Joe has adamantly denied the allegations and claims Teresa was well-aware he was in Atlantic City "on business" while he was supposedly cheating on his incarcerated wife.
Melissa also described Joe's dedication to his daughters in Teresa's absence as "heartwarming."
Here is what InTouch is saying:
While Teresa is in prison at the Federal Correctional Institution in Danbury, Conn., serving a 15-month sentence for fraud her husband was being a dogg.
Joe and Jamie were spotted "full-on making out" in the Tropicana hotel, one eyewitness tells 'In Touch,' adding, "They were chugging margaritas and seemed drunk out of their minds."

That might explain what happened next. "Joe and Jamie went back to the room and things got crazy," says an insider with knowledge of the situation, who adds that another couple and some friends joined them inside the Merv Griffin suite at Resorts Casino Hotel.

The pair were first introduced through friends over a three-hour meal in Newark, N.J.

When reached for comment by 'In Touch' on March 9, Joe initially denied knowing Jamie, stating, "I have no idea who you're talking about," before eventually admitting she was "with a friend of mine. Maybe I had an arm around her [at Carmine's]." When asked to explain why there are photos of him with Jamie inside a Resorts hotel room, he replied, "Um, we were at a business meeting."