We guess the love runs shallow when it comes to the late George Michael who left nothing to either of his gay lovers.
The pop icon will was revealed to only leave money to his sisters, staff and charities – believed to be Childline and the Terrence Higgins Trust.
His lover since 2011 Fadi Fawaz sounded off in a bizarre rant declaring his "hate" for the late music icon.
Read on to see what his hairdresser lover Fadi Fawaz said about the late George Michael Will…
CelebNMusic247.com has learned that Fadi Fawaz is contesting the George Michael Will since he was Left NOTHING!
Fawaz was spotted venting his anger towards his late music icon boyfriend, two years after he found Michael dead at his home in Oxfordshire on Christmas Day in 2016.
Fadi Fawaz wrote:
George I hate you.
Moments later, the fine art collector shared a bizarre cryptic message from his Facebook page, which read:
Power proved to me you could turn friends, family and strangers into liars, cowards and very much inhuman and get this mega power can't make or keep someone kind or loving and I cannot wait to prove that to you. With all my hate, Fadi. [sic]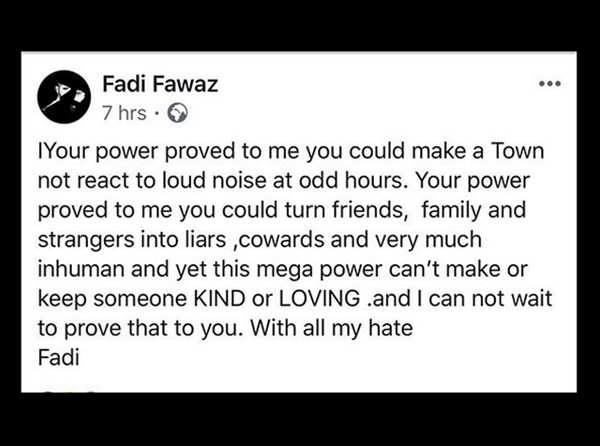 Fadi's public outburst comes after he learned that his ''Careless Whisper' hitmaker boyfriend left him nothing.
Then, to add more salt in his opened wound George's cousin Andros Georgiou confirmed Fadi was not mentioned in his will.
What is next for Fadi Fawaz?
Well, he is currently living in George's Regents Park home. According to Andros, Fadi will NOT be leaving anytime soon unless he receives a HUGE payout settlement to vacate.
He is also currently contesting the will.
Fadi is threatening to go all the way to High Court but I think the estate will have to settle with him.

So far, "He's been offered £500,000 and I think the estate should pay a couple of million to get rid of him."
In addition to Fadi, George Michael Will left NOTHING to ex-partner, Dallas art dealer Kenny Goss, 59.
He wasn't even mentioned in the will. Michael and Goss were together from 1996 to 2011. He too is currently contesting his exclusion from the will, in relation to their Goss-Michael Foundation.
Gay men, learn from all these Football, Basketball and Beverly Hills Wives, when you marry a rich man, make sure you take a day to go over the will and have yourself added so you don't end up like Fadi or Kenny.
Thoughts?