Instagram model Eliza Reign Future looks bright since she is expecting a new baby with ATL rapper Future.
Eliza Reign is Future's sixth baby mama, and now she is finally bearing her baby bump for the world to see. Read on and check out the Haitian Goddess…

CelebNMusic247.com has the latest on Future Hendrix and his sixth baby mama, Instagram model Eliza Reign sporting the latest baby mama pose.
Instagram model Eliza Reign is Known to SLAY, and she still is but with Future's unborn child.
Future and Fetty Wap have one thing in common, they don't wrap it up when having sex, and they have six baby mamas. Being a rap star baby mama is NOT all that it sounds like it to be. There is NO BIG PAYOUT, and don't expect any support by the rapper himself, because he's gonna be in denial mode until you get a DNA test.
See, the rapper's like Future and Fetty Wap, look at Instagram models as THOTS, and to be honest, most are, especially if you're NOT bringing the condoms.
If he says my joint is too big for a condom, that's BS, ladies there are condoms big enough, they're called MAGNUMS! Unless he has a coke can D, or a 2 liter bottle size cock, then we can see why he is saying they don't fit. There are men out there with those, we've seen them. But Future and Fetty don't possess the horse hung men. They're big, but NOT OMG HUGE, condom required.
And here is why. Reportedly, Eliza Reign told Future that she was pregnant with Future's unborn baby, he denied it. She claims that Future threatened her with physical violence if she didn't abort the baby. She also says her friends and family were threatened before the rapper cut off all contact with her.
Future is ignoring Eliza Reign because he's having a baby with Joie Chavis: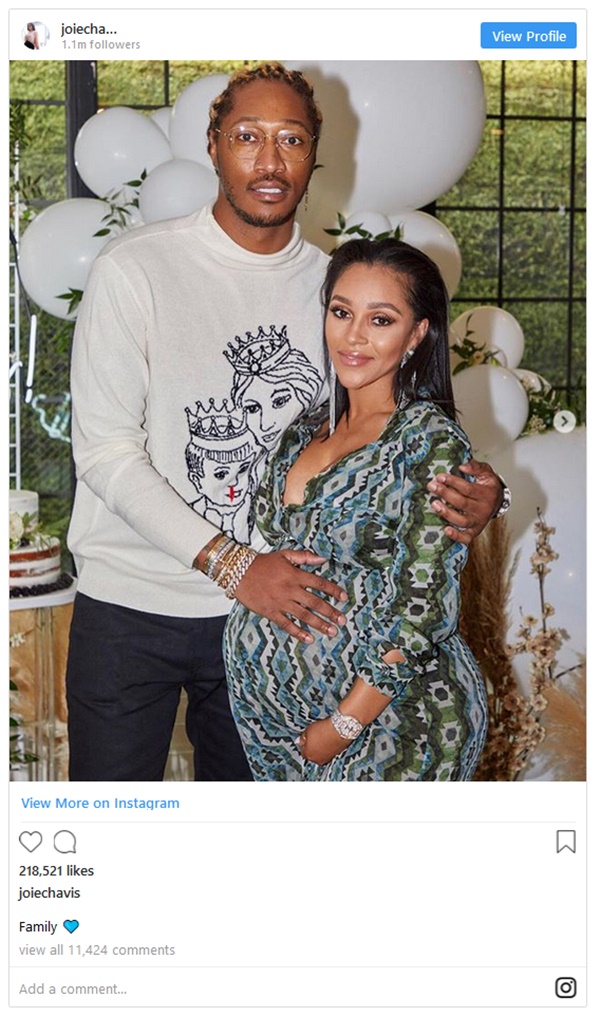 The reason, Future is with another woman by the name of Joie Chavis. She is a dancer and Bow Wow ex (who she shares a daughter with), confirmed that she and Future will be welcoming a baby boy together after months of speculation of paternity.
The rumored couple celebrated their bundle of joy with a lavish Los Angeles gender reveal party in November.
Meanwhile, his sixth baby mama Eliza Reign is left in the dust like Alexx Skyy, who is now on Love & Hip Hop New York exposing Fetty Wap like Masika Kaylisha did a couple years back on LHHH.
Currently, Future's list of baby mamas are as follows:
Future's baby mama Britini Mealy posted this video of she and Future's son singing his dad's music. It is sad to see that Future's son is singing his music and he is nowhere to be found. Having multiple kids with multiple women is NOT fair to the children because the father, who is NEEDED is NOT around, he's with another woman now. #SMH
View this post on Instagram
Brittni Mealy – Brittni Mealy is the mother to his son Prince. Mealy is an Instagram model and the founder of clothing brand Unicorn Universe. Mealy recently told Future fans to stop tagging her: "I appreciate yall stop tagging me and associating me with my son's father and whatever he got going on. Let me make things crystal clear. I am not with him in no way and never will be again."