This is crazy, FEDS are trying to say that a founding member of The Fugees, Pras Michel, is in serious legal trouble for allegedly funneling millions of dollars worth of political campaign contributions.
Though, this seems like another underhanded move by the Trump administration since Obama has been out of office for over 2-years. Read on to get more on Pras Michel Indictment…
CelebNMusic247.com reports that federal prosecutors in D.C. slapped the Fugees Pras Michel with a 4-count indictment Friday claiming he and infamous Malaysian businessman Jho Low conspired to funnel funds from foreign accounts to make political contributions in the U.S.
Pras tells TMZ cameras that he is confused on what is going on, but it feels like they "trying to film their own movie."
See, Pras' indictment doesn't mention Obama by name, however, it is insinuating him name since Pras made the donations for a Presidential candidate in the 2012 election.
Yahoo News reports:
U.S. prosecutors brought additional charges against Jho Low, the Malaysian national accused of looting the 1MDB wealth fund, for campaign-finance violations related to President Barack Obama's 2012 re-election effort.

According to an indictment unsealed Friday in Washington, Low transferred $21.6 million to Pras Michel, a musician and film producer, who spread approximately $865,000 among 20 people. These straw donors, in turn, gave the cash to a presidential fundraising committee without indicating it had come from a foreign source. Michel also sent more than $1 million to an independent election committee, prosecutors said.
What we have learned About Pras:
Pras has posted pics with Obama on his social media back in 2017, which read:
Farewell, my good friend, it's been an honor and pleasure but it's not the end of the road rather it's a beginning of a new journey to subjugate all the noises ….. btw that story was funny as hell.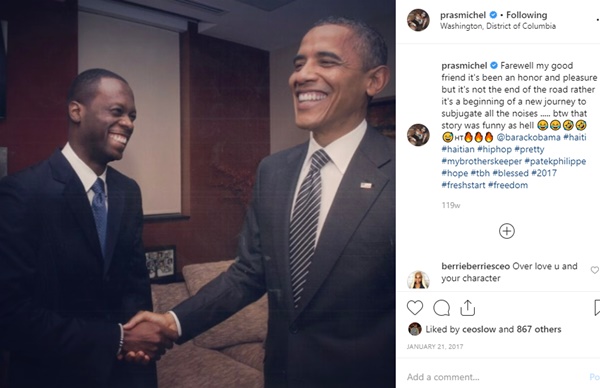 In 2016, Pras is seen sitting on the couch in the Oval office when Barrack 8-year Presidency ended, he said:
It's been an incredible 8 years and it's an honor to have known POTUS for 10… you will be miss and we will be "my brother's keeper".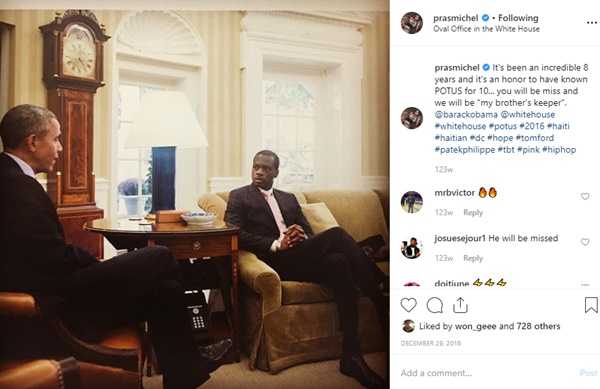 NOTE: The above photos were taken on his Instagram account in 2016 and 2017.  Not to mention,  time stamp his location in Washington DC at the time of the photos.
Does this make him guilty?
Pras has already mentioned that he is lawyering up.
No, but FEDS are trying to make something out of nothing, this is why we have a hunch that Trump is behind this.
Bottom line, It's illegal for all foreign entities — not only Russia — to use monies to influence U.S. elections.
It just seems like President Trump has his people working hard to once again discredit President Obama to take the heat off of himself.
If proven guilty, Pras is facing possible prison time. The indictment charges him with conspiracy, false statement and 2 counts of false entry in record.